Concordia community gives back to students
Concordia students will benefit from more than $287,000 in gifts from faculty members, staff and retirees.
"Like any community that wants to thrive, we need to support each other and give back. We can make a difference to our students," says Marlene Gross, manager of Services for New Students and the Student Success Program at Concordia's Counselling and Development.
The 2011-12 campaign raised more than $287,000 for Concordia students, with an internal participation rate of 41 per cent.

The Community Campaign offers the chance for faculty members, staff and retirees to give back. Organized by Concordia's Advancement and Alumni Relations, the campaign is supported by numerous volunteers, including Gross, who chairs the campaign's advisory committee.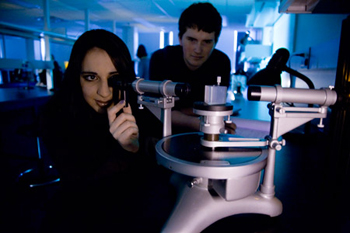 The campaign enables donors to direct their contributions to the programs and initiatives important to them.

"Whether we choose to have our donation assist students in financial need, provide state-of-the art equipment to a lab or studio or help a department maintain a promising program, we can be certain that our donations will make a difference," says Gross.

Different units at the university found creative ways to motivate colleagues to participate in the Community Campaign.

Staff in the Office of the Vice-President, Institutional Relations and Secretary-General, increased awareness of the campaign through a contest in which donors from the unit were asked to submit suggestions for new bursaries or scholarships. The contest brought colleagues together as a team.

The contest generated more than $3,000 in pledges, which led to the creation of two new bursaries: one directed towards single parents and the other to support First Nations, Métis and Inuit students.
"It's an empowering feeling to know that we're raising money for specific areas that will really help students who need it," says Enza De Cubellis, director of administration and public affairs.

On the last day of the Community Campaign, Brigeen Badour, an advisor in the Student Transition Centre, proposed the "breakfast before work potluck" fundraiser.

"We all wanted to do something that would make a difference, so we decided to do something fun and supportive at the same time," says Badour. About 20 staff members arrived early that day with baskets of food and envelopes of donations. Nearly everyone from the unit attended.

"It's a great team-building experience and we all wondered why we didn't do this sort of thing more often," says Badour. Staff donations were directed towards the School of Extended Learning's Development Fund.

"Any gift — modest, exceptional and everything in between — makes a difference in our community," says Derek Linetsky, development officer for community programs in Advancement and Alumni Relations.

"Concordians have built an incredible culture of philanthropy and I hope to see the university community at Shuffle 23, the kick-off to the 2012-13 Community Campaign." The annual fundraising walkathon takes place Friday, September 28.

Related links:
• Community Campaign
• Giving to Concordia


---