Pitch-perfect tournament benefits student bursaries
Concordia Golf Classic nets $232,000 to support student success
Alumni and friends raised more than $200,000 towards vital bursaries at the 2012 Concordia Golf Classic on June 4.

Scores of philanthropic golfers hit the fairways ahead of a fundraiser over cocktails and a sunset banquet at Le Fontainebleau in Blainville, Que.
Since its inception, the Concordia Golf Classic has helped create more than 1,000 bursaries to ease the financial pressure on students as they pursue their academic goals.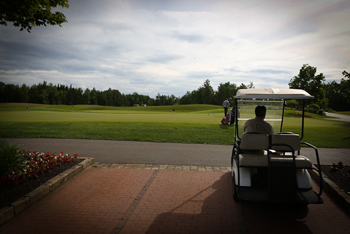 To date, Concordia alumni and friends have raised $3.2 million in support of the awards which, in some cases, have enhanced students' successes. Indeed, Liliane Chamas, a past Concordia Golf Classic bursary recipient, went on to secure a Rhodes Scholarship in 2008.

Midway through dinner, George Hanna, honorary co-chair of the tournament and president of Intrafina Ltd., announced that $232,000 had been raised, pushing the tournament's nine-year grand total to a new high.

"Your efforts help launch the careers of promising students," Hanna told guests. "You motivate them to give back to their alma mater and to society, much like you're doing here today."

Bursaries are vital to Concordia students because they help pay for items such as books, living expenses, food and transportation.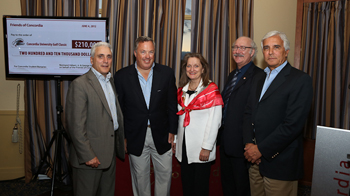 "For a recipient it's not a windfall, it's a lifeline and a gift that sustains dreams of a career," said Marie Claire Morin, vice-president of Concordia's Advancement and Alumni Relations.
Concordia Provost and Vice-President Academic Affairs David Graham called the tournament's latest tally an "impressive total" and a boost for deserving students. "It's a marvellous accomplishment and I'm proud of your efforts," Graham told donors. "On behalf of Concordia's students, I offer my sincerest thanks."

Hanna said the tournament reaches its bursary targets "year in, year out." "Every year as summer approaches, I look forward to this event because it gives me and my colleagues a terrific opportunity to raise funds for deserving students."

"The Concordia Golf Classic is a great way for sporting enthusiasts to rally in support of Concordia students," added Norman Hébert Jr., honorary co-chair of the tournament, president and CEO of Groupe Park Avenue, and incoming chair of Concordia's Board of Governors.
David Adelman, a student reporter in Concordia's Department of Journalism, attended the 2012 Concordia Golf Classic, hosted by Advancement and Alumni Relations. The annual golf tournament has raised more than $3 million towards bursaries:
Concordia alumni and friends took part in the 2012 Concordia Golf Classic on June 4 at Le Fontainebleau Golf Club in Blainville, Que. In this podcast, Scott McCulloch of NOW news and events reviews the fundraiser:




Related links:
• Concordia University Advancement and Alumni Relations
• Concordia University Alumni Association


---