Heavy metal meets academia
Concordia professor parlays musical passion into online learning research
After spending an hour and a half with Vivek Venkatesh, an assistant professor in Concordia's Department of Education and director of the Graduate Programs in Educational Technology, two things are clear: he's a committed and very knowledgeable researcher, and he's a huge fan of heavy metal music.

"I'm an avowed metalhead, I've been a metalhead since I was 13 or 14 years old," he says. "It's a lifestyle choice for me. I don't switch it off … I listen to metal walking into work, and I listen to it in my office, it's just something that encompasses everything that I do."

As for his research? "My work is based in the intersection of educational psychology, cognitive science and online learning," he says. Heady stuff, but is it metal heady stuff? It would seem so.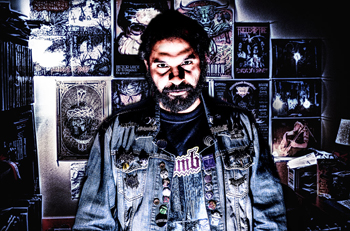 Recently, Venkatesh figured out a way to marry his love for heavy metal music to his educational research. The eureka moment came after a conversation with Blake Judd, lead singer for an American metal band called Nachtmystium, when they realized that heavy metal forums would provide a perfect case study for research into how people interact and learn in online environments.

Although heavy metal forums — where fans of the genre exchange questions, thoughts and opinions — are not formal learning environments, fans learn a lot from being active members, and it's the cognitive aspect of these learning processes that interest Venkatesh and his team of researchers.

"What's interesting to me as a cognitive scientist is trying to pinpoint what kind of sequences or trajectories people take in traversing information on the Internet in order to arrive at a point where they think, 'Hey I've learned something here,' and then how they reflect on that learning experience," Venkatesh explains.

What becomes apparent is how users, especially so-called "super users," shape the interactions that occur on forums. "You have people who are engaged in the process, who feel a need to go online and share; it's an extension of their identity; a way for them to express what they might have felt uncomfortable expressing face to face."

Venkatesh recently co-authored a chapter entitled "Technological Transparency in the Age of Web 2.0: A Case Study of Interactions in Internet-Based Forums," in the textbook Methodologies, Tools and New Developments for E-Learning.

Examining interviews with super users from the metal forums, Venkatesh, his colleague Assistant Professor David Waddington, and their team of graduate students including Tieja Thomas, Kathryn Urbaniak, Timothy Gallant, Amna Zuberi and Kamran Shaikh discovered unique patterns of online discussion that can certainly be applied in more formal learning environments.

One example is allowing users to post anonymously: "Providing an opportunity for people to communicate anonymously is a huge area of research that I personally would not have thought about and would not have even considered using in my own class activities if not for this construct called technological transparency that my colleague David Waddington introduced me to," he says.

The Concordia-based research project into heavy metal forums has already attracted a quite a lot of attention, including an online article for Decibel, North America's most popular extreme metal magazine. Since the article came out, Venkatesh has been contacted by numerous academics wanting to collaborate with him on different metal-flavoured research projects.

One that Venkatesh is very excited about is a project with Jeffrey Podoshen, associate professor in the Business, Organizations and Society Department at Franklin and Marshall College in Pennsylvania. The two are interviewing fans of a musical genre known as black metal to better understand how they perceive their identities in relation to the music.

"An understanding of people's identities is crucial to the work of creating online environments that can be adapted to individual learning needs or personality needs," Venkatesh says.

With other collaborative projects in the wings, Venkatesh is already thinking about a book that will compile all sorts of metal-related research and then try to use all the different perspectives to come to a richer understanding of how people learn in online environments. "If I could invite academic metalheads to participate from fields as varied as comunications and media studies to musicology … I think it would be a pretty neat project to undertake."

While Venkatesh may have stumbled upon a researcher's gold mine owing to his interest in heavy metal, he insists his research into online learning has real-world implications for everyone; not just metal fans.

"The implications of my work are real, and they are already helping me to create activities for online classes in ways that I wouldn't have thought before," he says. "My field relied on being practical; if I can't show how this translates into an actual instructional design principle, I'm sunk."

Of course, he adds with a smile, the fact that he has been able to dovetail his interest in heavy metal into furthering our understanding of cognitions in online environments is pretty neat.

"The fact that it's done in a heavy metal community is just so pleasant for me," he says smiling from underneath his black baseball cap adorned with his favourite psychedelic black metal band Nachtmystium.

Related links:
• Department of Education
• Vivek Venkatesh
• Decibel magazine article
• Technological Transparency in the Age of Web 2.0: A Case Study of Interactions in Internet-Based Forums









---