Engineering students soar with victory
Light aircraft places second in Micro Class category of prestigious international competition
A group of Concordia engineering students has brought home a trophy from the prestigious Society of Automotive Engineers (SAE) International Aero Design East Competition, held in Marietta, Georgia. The team earned second place in the Micro Class category. A couple of weeks after their return, they took their victorious aircraft out to the Loyola Campus for a demonstration and to reflect on their big win.

"This was my third competition during my studies at Concordia University and it was a thrill to succeed at this level against competitors of such high calibre from around the world," said team captain Hadi Alaee.
The Concordia team began their hard work last September, working six to 10 hours a week to complete their project. The large-scale construction work was done in the SAE office and a lot of the manufacturing of the composite materials was done using home-made equipment.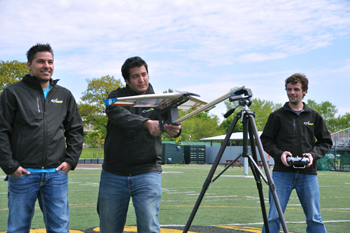 The finished plane was built from balsa wood and carbon fibre. Once the individual parts were cut, the plane was manufactured in a matter of hours with the help of a construction jig, which was also designed by the team. Final assembly required little more than a bottle of glue, a small saw, an exacto knife and sandpaper.

On April 25, the students departed in the team truck, emblazoned with the Stingers logo, for the 22-hour drive down to Georgia.

"Our presentation went smoothly on Friday morning and all the judges were amazed with our aircraft during the inspection," said Hadi. "I was told by a lot of judges that we had a high chance of success."
In the Micro Class category, contest entries were judged according to how well they responded to two criteria: lowest empty weight and highest carrying payload. The Concordia aircraft weighed .42 pounds when empty and was able to carry 1.67 pounds. The team discovered their entry finished among the top of the competitors on Sunday and received the trophy at a ceremony held on the contest field.
"I'm thrilled for the team that they not only performed superbly but also that their experience in the United States was so instructive and rewarding," said Dean of the Faculty of Engineering and Computer Science Robin Drew.

Martin Pugh, chair of the Department of Mechanical and Industrial Engineering, was equally thrilled. "I'm very proud of our students," he said. Their hard work and creativity truly paid off."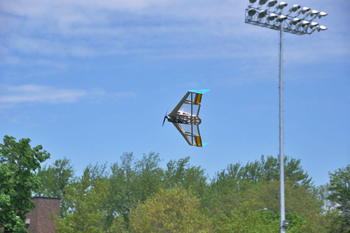 On the way back from their success at the competition, the team members stopped at the Smithsonian National Air and Space Museum to see the space shuttle Discovery. Hadi said, "This made our trip just perfect."

Back in Montreal, the team again put the plane through its paces. Remarkably, their winning aircraft is the eighth model they have built. The previous seven models crashed during test flights.

"Every previous plane has crashed, but has crashed with 'honour,'" said the team's pilot Nicholas Major.Crashes have always provided valuable learning experiences, leading to further design improvements.

Under an almost cloudless Montreal sky, Nicholas used a remote control device to skillfully navigate the fast-moving plane from the launch to a successful landing, with plenty of dives and loops along the way. He estimates that when carrying a payload, the aircraft reaches speeds of 100 km/h.

Hadi explained, "I believe designs like this could be the basis for serious commercial use, whether it be in the commercial airline industry or for unmanned aerial vehicles. In any case, there is much research and advancement potential in this aircraft."

The full team consisted of Hadi Alaee, Nicholas Major, Billy Marquez, Serge Kudinov, Vishaan Gungah, Neil Roy Choudhury, Fabio Bandera and Ejen Eskhandari.

Related links:
• Concordia's chapter of the Society of Automotive Engineers (SAE)
• Faculty of Engineering and Computer Science
• Department of Mechanical and Industrial Engineering

---