Decoding synthetic biology
Symposium in an exciting new field brings top scientists to Concordia
Biology Professor Vincent Martin describes synthetic biology as applying principles of engineering to biology — understanding how different pieces work together through modelling in order to produce a predictable result.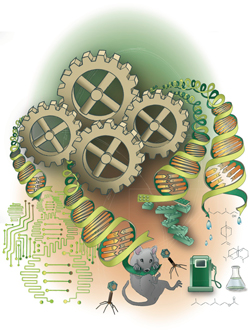 "If you want to build a microbe that produces an antibiotic, then you need to know what the parts or the genes are, and then how to assemble the genes together to give you what you expect you're going to get in a reproducible, predictable way," he explains.

Synthetic biology is generating a lot of interest, especially in Europe and the United States, perhaps owing to its almost limitless applications. Martin describes himself as "knee-deep" in synthetic biology, but says the Canadian scientific community as a whole has thus far shown only tepid interest in the new field.

"I've been all over the place promoting it, and I realize now that we have to come together, get organized, start talking about building on synthetic biology in Canada," he says.

Martin, who holds the Canada Research Chair in Microbial Genomics, wants to turn Concordia into a hub for synthetic biological research. With this in mind, he has invited top Canadians and Americans working in synthetic biology to speak at a symposium this Monday, May 21.

He says hosting such an event is a great way to get the word out about a branch of biology that not many people, even in his own department, know about, and to create new networks among scientists already working in the field.

"The symposium will play an educational role, and it will also bring people together and get the discussion going," he says. "Hopefully we can build some connections with some of these world leaders in the area."

Among the invited speakers is renowned synthetic biologist Jay Keasling from the University of Californa, Berkeley. "UC Berkely is the synthetic biology centre," Martin says. "Keasling has been a huge instigator of synthetic biology research in the United States." The renowned biologist will discuss using synthetic biology to create synthetic fuels.
Another invited speaker is Joel Bader, an associate professor at Johns Hopkins University, whose lab is working on creating synthetic DNA. "We specifically aim to create a living yeast cell whose DNA traces back to an oligo synthesizer, and before that to a computer program, rather than a parent cell," his abstract for the symposium reads.

Pam Silver, whose Harvard-based lab works in diverse areas of systems and synthetic biology, will speak about designing biological systems for health and sustainability.

Among the Canadian speakers at the symposium is Martin's close collaborator, Peter Facchini from the University of Calgary. He will describe the major project he and Martin are working on, called PhytoMetaSyn, which aims to produce alkaloid compounds commonly found in plants, in yeast. "This way we can start making pharmaceutical compounds, in these simple systems, like yeast; as opposed to growing fields and field of opium poppies or whatever else," Martin says.

Three other Canadian speakers — Radhakrishnan Mahadevan from the University of Toronto, Matthew Scott from the University of Waterloo, and Mads Kaern from the University of Ottawa — are what Martin terms "computational people," who come at synthetic biology from a different angle.

"They're going to talk about how you can use computational methods to model metabolism, behaviour, and the physiology of living systems," he says. "They try to do as much of the figuring out of the design on the computer, before they turn around and try to build the real thing."

When: May 21, 2012 from 8 a.m. to 6 p.m.
Where: Room SP S-110, Richard J. Renaud Science Complex, Loyola Campus (7141 Sherbrooke St. W.)

Related links:
• Symposium site
• Concordia's Department of Biology
• PhotoMetaSyn project site
---