Calling all Canadian artists
Competition opens for artwork to adorn lobby of Concordia's administrative building
Artists from across Canada are invited to submit their candidacy for a competition to create an artwork that will adorn the refurbished lobby of Concordia's Guy-Metro (GM) Building.
Concordia's Director of Special Projects and Cultural Affairs Clarence Epstein says this is the first time Concordia has opened up a competition for a public artwork to candidates from across the country.
"As one of Canada's largest comprehensive universities with a nationally-renowned faculty of fine arts, we want to ensure that this opportunity is available to the widest possible network of art professionals."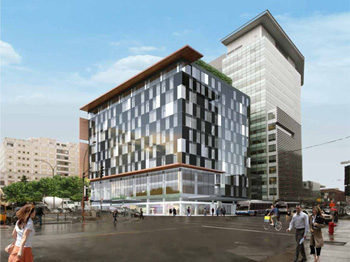 The artwork, which will adorn the wall facing the GM Building elevators, must be bi-dimensional and measure to a maximum of 3.6 x 6.3 x 0.3 metres.

"It's a flat surface with a nominal amount of depth," Epstein explains. "An artist could variably do a work in bas-relief … it could be multimedia, it could be light-based, it could be glass, it could be metal or wood for that matter. Whatever it is, it has to be able to withstand public exposure."

It also has to function aesthetically in a tightly designed space; something Epstein says may represent the most difficult challenge for the artist. "You want it to be successful when you stand in front of it, or when you look at it from one side or the other," he says. "That's where a key component of the artist's skill comes in."
Epstein is chairing the five-person selection committee. The other four members are: Geneviève Cadieux, an artist and professor of photography at Concordia; Marianne McKenna, a partner in KPMB Architects, the firm that redesigned the GM Building; François Morelli, an artist and professor of studio arts at Concordia, and John Zeppetelli, curator at the DHC/Art Foundation for Contemporary Art.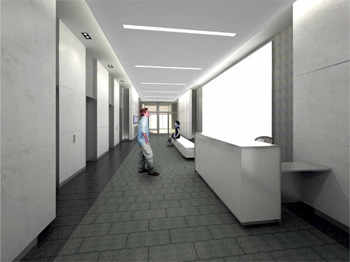 To be eligible for the competition, candidates must meet the requirements for a professional visual artist used by the Canada Council for the Arts for awarding grants. The deadline for submissions is Friday, June 8 at 12 p.m.

The committee will then select three artists from the pool of eligible candidates. Epstein insists the selection committee is not simply looking for established professionals. "We hope to bring out the best Canadian talent, and that among the entrants there might be emerging artists."

The three shortlisted candidates will each be given $3,000 to develop a proposal for the space. The competition's selection committee will encourage the shortlisted artists to propose bold, contemporary pieces that "embody the energy of a university that prides itself on being an open and engaged institution of higher learning." This is in keeping with other public art pieces that adorn the revitalized Quartier Concordia urban planning project.

The winning artist will have a budget of $80,000 for the design, production and installation. Epstein predicts the artwork should be ready for public display by the winter term.

Related links:
• Competition Page
• Concordia Public Art Collection
---