Garnets hold keys to success??
How the Garnet Key Society leverages the skills of Concordia's brightest? and politest
Some 50 years ago Henry F. Hall, who was principal emeritus of Sir George Williams University, said: "Membership in the Garnet Key Society is the highest honour which may be bestowed upon an undergraduate." Members of the current Key – the 54th – believe Hall's words still ring true.

The Garnet Key is a group of 12 elite Concordia undergraduate students who act as ambassadors for the university at major functions such as donor recognition events and lectures. Society members also organize community service projects.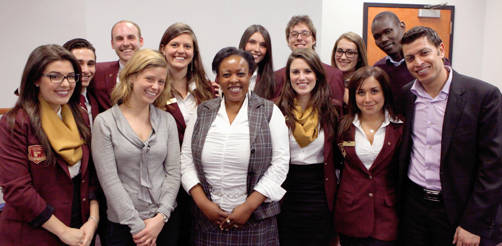 Alexandra Johnson, an honours student in political science and Garnet Key vice-president, couldn't believe her luck when she met Beverley McLachlin, Chief Justice of Canada, at a recent honorary doctorate event: "I was having dinner with Beverly talking about life and I asked her, 'What do you do for fun?' "

Garnet Key mandates last one year but membership in the society is for life — a small bonus that can pay big dividends. "Being a member of the society is important on a C.V. because it can really make a difference," says Brent Stoute, society member and project manager at technology firm MDA Corporation. "When I see Garnet Key Society on a C.V., I make a strong recommendation for applications to be pursued."

Induction into the society is a rigorous process: prospective members must retain a 3.5 or higher grade point average before even being invited to apply.

"It's honorable to be part of the Key because it's a difficult society to get into and there are strict criteria," explains Kristian Valenta, Garnet Key treasurer and honours finance student at the John Molson School of Business.

More than 100 undergraduates apply to the society each year. Yet only 60 are considered for interviews, 30 of whom attend final trials as well as a cocktail function where their social skills are tested.

"After you go through the three-step recruitment process, you really feel that your membership has been earned," says Teresa Seminara, Garnet Key president and a double major in political science and Community, Public Affairs and Policy Studies.

Once inducted, members take on responsibilities. Clarence Epstein, director of special projects and cultural affairs at Concordia, says the current Key has never been more engaged. "What [the Office of the President] has tried to do is act as a facilitators and open doors but all the while empower the Key to make their own decisions."

Key societies stretch back about a century. The first was founded at Dartmouth College in New Hampshire in the 1920s. In 1956, fourth-year students Vic Rodgers and Dave Williams established the Garnet Key Society at Sir George Williams University, one of Concordia's founding institutions.

The rest, as they say, is history whose common thread is a long line of Concordians with pride for their alma mater. "I really didn't have a chance to get a great sense of school spirit until I was part of the Garnet Key," recalls Drew Wawin, district vice-president at TD Canada Trust and society member.

Since the society's founding, more than 400 members have upheld Concordia's sterling reputation with pride. The Garnet Key Society will hold its annual banquet on May 5.
Key to Garnet success
Every year, Concordia selects 12 undergraduate students to become Garnet Keys. As part of their functions, Garnet Keys lead community service projects and act as ambassadors at major university functions and lectures. In this podcast, Scott McCulloch of NOW news and events interviews Garnet Keys past and present:
---