Exhibition explores repercussions of sound
Concordia graduate reflects on creative process as inaugural Bronfman Fellow in Contemporary Art
Steve Bates' two dogs play with a squeaky toy and play-growl in the airy, light-filled studio he shares with four other artists. A train rumbles by, a dog knocks its bowl in a request for water, and the photographer in the next studio suddenly pumps up the volume.

The noise is fitting, in a way, since Bates — whose roots are as sound artist, musician, audio technician — is preparing for an upcoming exhibit that's all about the repercussions of sound. Entitled FDBK, a sort of technical shorthand for "feedback", it will be at Concordia University's FOFA Gallery from May 2 to May 25.

Incorporating video installation, sound, light and radio transmissions, the exhibition explores the use and influence of feedback in everything from music and politics to biology and cybernetics. The germ of the idea came from a live punk rock album from Bates' youth that made him think about the interplay between feedback, its source and its audience.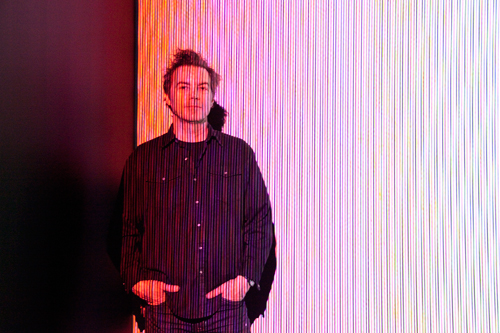 FDBK is not just any show: it's the exhibition that marks the end of the two-year Claudine and Stephen Bronfman Fellowship in Contemporary Art Fellowship that allowed Bates to concentrate on his professional development and not worry about paying bills as he made the transition from student to practising artist. According to him, it's done precisely that.

"They've really designed a fellowship that is perfect," says Bates, noting both the generous length of support and the specific budget elements. He says he found two years "immensely more useful and effective" than one, and the costs partially covered a living allowance, studio space, research-related travel, materials and the culminating exhibition.

Bates, who earned his MFA in Studio Arts (Open Media) in 2010, is the inaugural Concordia recipient of the Bronfman contemporary art fellowship. Announced in December 2009, the award allows fine arts graduates to develop their professional practice, exhibit their research/creation, and expand their teaching experience.

Valued at approximately $55,000, the fellowship is given each year to a promising postgraduate in visual art and design from each of Concordia and the Université du Québec à Montréal. The first recipient from UQAM was painter Véronique Savard. The 2011 fellows were UQAM's Aude Moreau and Pavitra Wickramasinghe from Concordia.

The 2012 winners of the Bronfman fellowship, the third of five planned sets of recipients, will be announced Thursday, May 3.

Bates would share a little bit of advice: take the first few months to figure out what they truly want to accomplish in order to best take advantage of the opportunity.

Time well spent
As for Bates, he used the travel allowance within the first year to go twice to Europe, the first to curate a project in Austria and the second to take workshops at STEIM, an Amsterdam-based electronic music studio that helps performers create unique instruments. The latter he found particularly valuable.

"More so than the technical information I learned, it was useful in terms of my thinking around making work with that kind of technology, and also performance," he says.

Pouring the fruits of his research into the production of work, the past winter has been particularly busy. As well as a residency with two Montreal artist-run centres and writing two articles for publication, Bates mounted four shows. These included a solo exhibition in Winnipeg, where he grew up, and a work in the Québec Triennial 2011 contemporary art exhibition.

The exposure he's received from this creative outburst has helped him make connections. For example, two of the curators at the Musée d'art contemporain de Montréal submitted his name when the London-based Institute of Contemporary Arts came looking for artists for an international exhibition called SOUNDWORKS. As a result, he's going to have work in a show in London, while the city hosts the Olympics. Curators from Paris and San Francisco have also recently visited his studio.

"The fellowship has given me the time and space to be able to make these other opportunities happen with people who are very supportive of my work," he says.

Fellows are also required to meet certain goals. This includes creating an exhibition, teaching and delivering a public lecture. Bates taught a course in Concordia's ARTX program during the winter term. He is planning a public presentation for late May, which will coincide with the launch of the catalogue for his FDBK exhibit.

"The last two years has made me change my way of thinking about being able to be an artist," he says. "It was really a way to commit to being an artist."

What: Vernissage for FDBK
When: Thursday, May 3, 2012, from 6 to 8 p.m.
Where: FOFA Gallery, Room 1-715 of the Engineering, Computer Science and Visual Arts Building (1515 Ste-Catherine St.), Sir George Williams Campus

Related links:
• Claudine and Stephen Bronfman Fellowship in Contemporary Art
• Interview about the exhibition Dead Air
• ARTX
• Québec Triennial 2011
• As curator and performer: What's Up Vienna! What's Up Montréal!
• For Me the Noise of Time is Not Sad exhibition at Dazibao





---