Taking courses for fun, not grades
Concordia's non-credit program geared to students 55 or older
Thanks to Concordia's wide range of programs, flexible class schedule and openness to part-time study, the university's credit courses have long attracted students of all ages.

Among those students is a growing number of Concordians, aged 55 and over, who have a thirst for learning yet don't want or need the pressure of seeking high marks.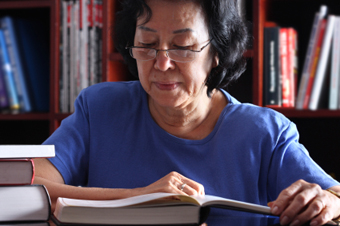 Enter the university's Senior Non-Credit Program, which allows people aged 55 or older to audit a number of undergraduate courses without having to write exams and assignments.

More than 350 students are enrolled in courses offered in the Senior Non-Credit Program, which is operated by the School of Extended Learning's Student Transition Centre (formerly the Centre for Mature Students).

While these students don't receive marks, they do gain access to university-level education and top-level faculty members at special senior rates. The bulk of courses are offered through the Faculty of Arts and Science, while a sampling is provided through the Faculty of Fine Arts and the John Molson School of Business.

Sylvia De Niverville has been the program's coordinator since the mid-1990s. She has taken many courses, including some in political science, English literature and art history, since 1986. What attracted De Niverville to sign up? "The same reason as everyone. I wanted to know more about a lot of things," she says.

De Niverville reports that the Senior Non-Credit Program came about thanks in large part to the late William (Willy) Schiff. He began to take Concordia undergraduate credit courses when he was in his 60s, on his way to earning a BA in history in 1988. Schiff lobbied the university administration to offer seniors the chance to audit undergraduate courses without writing exams and assignments or paying full fees. The administration agreed and began the Senior Non-Credit Program in 1983.

In recognition of Concordia's generosity, five years later, senior students contributed funds to help establish the Willy Schiff Scholarship, which is available to those aged 55 or over enrolled in a degree program. Senior students also created two renewable bursaries for students entering Concordia for an undergraduate degree.

The Senior Non-Credit Program has always been — and continues to be — run exclusively by volunteers. "They are absolutely marvelous," De Niverville says of the volunteer team. "They are a dedicated, professional bunch."

For information about the Senior Non-Credit Program, contact Sylvia de Niverville at 514-848-2424, ext. 3893, or seniors@concordia.ca. The office is located at 1250 Guy St., Room 201, and is open 10 a.m. to 2 p.m., Monday to Friday.
Related links:
• Concordia's Senior Non-Credit Program (Student Transition Centre)
• Concordia's School of Extended Learning



---