How Community Campaign motivates students to excel
Concordians share reasons for giving to internal fundraiser that ends April 30
For a few dollars a month, Concordians can make a big difference by contributing to the Community Campaign.

"It's very easy to have a positive impact on Concordia and our students," says Nancy Marrelli, Community Campaign advisory committee member and archivist emerita in the Records Management and Archives Department. "We're asking donors to give to areas that have meaning to them at any level they're comfortable with."
The campaign strategy is focused on affinity. This year's slogan, Your University/Your Choice, encourages faculty members, staff and retirees to support areas that resonate with them.

"We're in the homestretch of the Community Campaign and our message is simple: there are hundreds of areas to support," says Marlene Gross, chair of the Community Campaign's advisory committee and manager of Services for New Students at Concordia's Counselling and Development Office. "We're asking people to give any amount to any area that means something to them because, ultimately, it supports our students."

Last year, about four in 10 Concordians donated more than $300,000 to the Community Campaign.

Organized by Advancement and Alumni Relations, and supported by many volunteers, the fundraising drive targets faculty, staff and retirees.

Yet mobilizing thousands of prospective donors is a formidable challenge. Marshalling tiny clusters of like-minded individuals is another matter.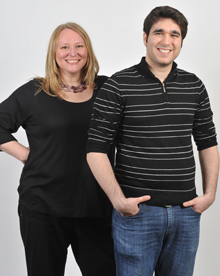 That's the tack David Thirlwall, Concordia's associate university librarian, took in 2008 when he and two others co-founded the Library Staff in Support of Students Bursary, an endowed fund that pays out $500 a year.

Thirlwall says his colleagues' affinity for book-borrowing students and love of their own work morphed into generosity on a more personal level.

"We're the bartenders of the library world," says Thirlwall. "The library is the place where students express the troubles they're having.

"We wanted to create a bursary for students in need and the affinity existed with a core of individuals who wanted to give back in a way that recognized students' appreciation and friendship."

For others, support of the Community Campaign equates to leadership. "It's an opportunity to contribute and be a strong leader," says Katie Sheahan, Concordia's director of the Department of Recreation and Athletics. "That's something I value. It's significant that you can do both by being a donor."

"There's just a lot of need," says Gross. "Like so many of my colleagues I believe that students matter most."

The 2011-12 Community Campaign ends April 30.

Related links:
• Community Campaign
• Giving to Concordia
• Records Management and Archives Department
• Concordia University Libraries
• Department of Recreation and Athletics
• "Community Campaign spells relief for many students" - NOW, February 27, 2012
• "2012 Community Campaign all about choices" - NOW, February 21, 2012,



---