Quebec's C.R.A.Z.Y. film business
Film producer offers nuggets of wisdom to students.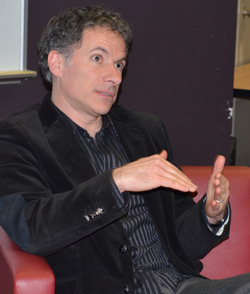 Award-winning producer and alumnus Pierre Even returned to his alma mater to share his experiences with students, faculty members and staff of the Department of Communication Studies, in conversation with fellow alumnus and entertainment writer Brendan Kelly.
Even is the producer of numerous critically acclaimed feature films, including C.R.A.Z.Y. and Café de Flore. His most recent movie, Rebelle, just earned its 14-year-old star, Rachel Mwanza, the Silver Bear Award for Best Actress from the prestigious Berlin International Film Festival.
"I was not talented enough as an actor or director, but I knew I wanted to get into the movie business," said Even, who holds a law degree from the Université de Montréal in addition to his Graduate Diploma in Communication Studies from Concordia. He is also president and founder of the Montreal production company, Item 7.
Even's first production was C.R.A.Z.Y. in 2005. "I had read hundreds of scripts and C.R.A.Z.Y. was the best I'd come across."
Every producer in Montreal had refused C.R.A.Z.Y., but Even accepted what became the toughest project he ever worked on — which turned into a huge success. The film swept up audiences across the globe and received 49 awards.
"Starting with a film like C.R.A.Z.Y. is certainly a career highlight. It's a film that, even seven years later, people remember. Making a film that people remember so much is a great feeling still today," he said.
A more recent highlight for Even was being in Berlin with Mwanza. "Having this young girl from Kinshasa win the best actress award was a tremendous experience," he said.
Scheduled for release in Montreal on April 20, Rebelle is a moving story about a child soldier abducted from her village who finds hope.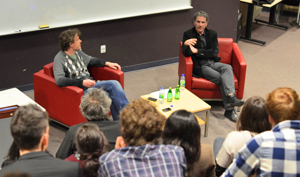 The event, held March 16 on the Loyola Campus, included discussion on the Quebec film industry. After the boom that started in 1986 with Le Déclin de l'empire américain and Les Boys in 1997, a new generation of directors has come of age. Even gave examples such as Jean-Marc Vallée, Denis Villeneuve and Xavier Dolan.
"Even six years ago, nobody cared about Quebec films on the world scene, and today they're asking at the Berlin festival what's coming from Quebec," he said.
Quebec cinema has come a long way. "Café de Flore's $10 million budget is virtually unheard of for a French-language film," said Even of his 2011 film, which starred Vanessa Paradis who won both a Genie and a Jutra for her performance.
To young people seeking careers in film, Even offered a few words of advice. "I won't lie — it's a difficult business to get into. Ultimately it's all about relationships. Attend film premieres and introduce yourself to filmmakers, make friends in the business, volunteer where you can," he said.
"Once you get your foot in the door, I think it's important to get experience in different things, not to stay too long in one job."
Even refers to his former professor Father Marc Gervais as a legend at Concordia (since the event was held, Father Gervais passed away). "Still today, in my career, I think back to Father Marc Gervais and what he taught me about film aesthetics. He really taught me to read film," said Even. "What I'm doing today started here at Concordia. The university opened my mind to different kinds of films."
Kelly, who moderated the event, graduated with a master's in media studies in 1992.
More than 100 people packed a small auditorium in the Communication and Journalism Building for the event, which was followed by a cocktail reception.
Related links:
• Department of Communication Studies
• Item 7
• Brendan Kelly
• Berlin International Film Festival
• "Concordia loses member of the family" — NOW, March 27, 2012

---