Seven-year project closes with several events
Community-University Research Alliance project wraps up after more than 500 interviews with survivors of genocide, war and violence
After seven years and more than 500 interviews, Montreal Life Stories Displaced by War, Genocide, and other Human Rights Violations, an oral history project exploring Montrealers' experiences and memories of mass violence and displacement, has launched Rencontres, a month-long series of events throughout March, to help the public become better acquainted with the ground-breaking project.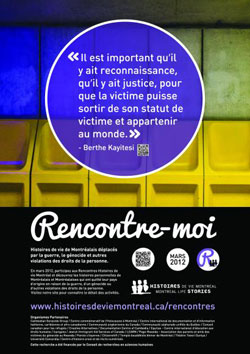 Life Stories, housed at Concordia's Centre for Oral History and Digital Storytelling, is a sweeping undertaking in which Montreal-resident survivors of genocide, war and violence recount their experiences.
It is a project that falls under the Community-University Research Alliance whose goal was to bring together postsecondary institutions with community organizations for skills sharing and to enhance the ability of social sciences and humanities research to meet the needs of Canadian communities in the midst of change.
Interviews were conducted with survivors of the Holocaust, the Rwandan genocide of 1994, the Duvalier regime in Haiti and the Cambodian genocide by the Khmer Rouge, among other human rights violations. The interviews, recorded on digital video, are being archived online and at the centre.

Many of the Rencontres events will take place at Concordia, including a four-day conference titled Beyond Testimony and Trauma: Oral History in the Aftermath of Mass Violence. An international conference with hundreds of participants from around the world, Beyond Testimony opens with a lecture on March 22 by Sen. and LtGen Roméo Dallaire (ret), the retired Canadian General who headed the U.N. peacekeeping force in Rwanda during the 1994 genocide.

What: Conference-opening lecture by Sen. and LtGen Roméo Dallaire (ret)
When: Thursday, March 22 at 7 p.m.
Where: Grande Bibliothèque, Bibliothèque et Archives nationales du Québec (475 De Maisonneuve Blvd. E.)

One of the themes of the four-day conference will be expanding the traditional concepts and practices of oral history.

"Usually, there is an emphasis on collection -- conducting thousands of interviews. But then the question is "Who's listening?" says project creator and co-director Steven High, a Concordia history professor. "We are concerned that oral history gathers dust on a shelf. So we seek to go beyond collecting testimony to a level of exchange — learning in conversation with the subject. I'm interested in a deeper engagement with the people being interviewed."

High notes the project has also prompted an evolution in the concept of human rights education, which to explored at a round table discussion on March 20. The round table will be followed by an official launch of curricular materials developed by the Life Stories Education Working Group.

What: Round table discussion on human rights education
When: Tuesday, March 20 from 4 to 6 p.m.
Where: Room EV 11-705, Engineering, Computer Science and Visual Arts Integrated Complex (1515 Ste-Catherine St. W.), Sir George Williams Campus

"There is a great deal to be learned about human rights when you engage directly with people's life stories. So we developed five educational modules to be taught at high schools across Quebec. The modules have been designed and tested, so now we are planning a workshop for teachers in the fall to train them to use the modules in the classroom."

Another educational outreach initiative is headed by Concordia Communication Studies Professor Elizabeth Miller, who is making a keynote presentation as part of the conference on March 24 along with John Molson School of Business Instructor Michele Luchs. Mapping Memories is a Life Stories spinoff project in which refugee youth tour Montreal schools to tell their own stories.

"When young people talk to other young people, there is a lot of synergy," High notes. "It really resonates with the students."

What: Keynote presentation by Elizabeth Miller
When: Saturday, March 24 from 8:30 to 9:30 a.m.
Where: Room H-767, Henry F. Hall Building (1455 De Maisonneuve Blvd. W.), Sir George Williams Campus

Miller is also launching the French version of her book on the project on March 20 at an event in which the public will get a chance to meet the touring speakers.

What: Launch of the French version of Miller's book
When: Tuesday, March 20 from 6 to 8 p.m.
Where: Room EV 11-725, Engineering , Computer Science and Visual Arts Integrated Complex (1515 Ste-Catherine St. W.), Sir George Williams Campus

One hallmark of Life Stories is intergenerational dialogue between interviewer and survivors, an interchange in which survivors are equal partners. A round table discussion on March 17 features members of the project's Rwandan Working Group.

What: Round table discussion featuring stakeholders from the Rwandan Working Group
When: Saturday, March 17 from 10 a.m. to 4 p.m.
Where: Room H-763, Henry F. Hall Building (1455 De Maisonneuve Blvd. W.), Sir George Williams Campus

"Every year, Montreal's Rwandan community has a day of reflection to discuss their history and the genocide. This year it will be part of our month of events. They will discuss the interviews, what it means to be Rwandan-Canadian, and to be defined, to a certain extent, by the events of 1994."

Life Stories has also spawned numerous artistic endeavours, many of which will be presented during the month. Sandeep Bhagwati, a Concordia associate professor of music and Canada Research Chair, created Ephemeral Roots, a theatre installation on display at La Grande Bibliotheque until April 1. The installation is composed of involuntary gestures from survivors while being interviewed for the project.

Concordia Professor of Theatre Edward Little will chair a round table discussion, followed by a display of artwork from the Life Stories Artists in Residence on March 21. There are also two plays and several performances by the Montreal Life Stories choir.

What: Artist in Residence: Life Stories on Stage with Concordia Professor of Theatre Edward Little
When: Wednesday, March 21 from 5:30 to 7:30 p.m.
Where: La Balustrade Theatre, Monument National (1182 St-Laurent Blvd.)

Read the related article about the fine arts connections [URL].

"At the very beginning, in 2005, we had assigned one of our work groups to do artistic work. Now, all seven of them are creating art," says High. "I never expected that artistic works would take such a central role. This project is like a big incubator, it has raised a lot of emotion and inspiration."

A full calendar of events is available online.

Related links:
• Calendar of events
• "Interpreting trauma" - NOW, March 14, 2012
• List of partners in the CURA project - Concordia Journal, October 25, 2007

---