Art Matters hits the streets
Continent's largest student-run art festival will feature more than 150 Concordia artists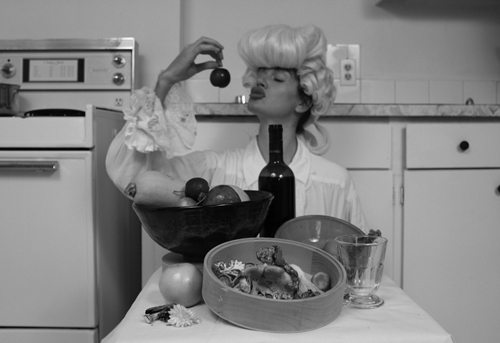 When Montrealers stroll along St-Viateur Street in March they'll notice a few changes. Studio arts student Aditi Ohri has arranged for a café, designer boutique, bookstore and consignment shop to all feature art by Concordia students in their windows.
"I like melding art into everyday life and these beautiful storefronts are perfect for the show I'm curating about personal identity within a community, and commodities as art objects," Ohri says.
A record shop on nearby Bernard Street and a vintage boutique on Parc Avenue will also be involved in the Art Crawl that Ohri has organized as part of Concordia's 2012 Art Matters Festival taking place March 2 to 16 at various Montreal venues.
The 12th edition of North America's largest student-run arts festival will feature13 exhibitions, along with an events-filled Open House Weekend, to entice Montrealers to discover the talent emerging from Concordia's multidisciplinary artistic community spearheaded by the Faculty of Fine Arts.
More than 150 up-and-coming artists and 15 curators are involved. Their practices include painting, design, installations, ceramics, performance art, video works, computation arts, photography, sculpture, theatre, contemporary dance, music, electroacoustics and other endeavours.
"This year, for the first time, we encouraged the curators to develop ideas that respond to the art being produced within the Concordia community, rather than having artists submit work for predetermined themes," says Vivien Leung, the festival's outreach coordinator.
Most exhibits will be held in galleries or art centres, but storefronts aren't the only new component. As part of Nuit Blanche, the ninth event of its kind that caters to night owls and is offered by Montréal en Lumière (Montreal High Lights Festival), Art Matters has teamed up with the Blue Cat Boxing Club to present In Our Time, an interactive soirée with live music, dance, theatrical and visual elements punctuated by rounds of boxing from midnight to 3 a.m.
"The idea is to create a participatory atmosphere that blurs the boundaries between performers and audience," says Zoe Koke, the festival's exhibition coordinator.
Art Matters 2012 is visiting several Montreal districts. "I'm really excited about taking art out of museums and integrating it into neighbourhood cultures where people don't have preconceived notions about how they're supposed to interact with pieces or performances," says Koke.
The festival's inaugural Open House Weekend is chock full of activities. "Every curator has organized a 45-minute event which we've scheduled so people can spend the entire weekend going from show to show," Leung explains.
Events run the gamut from a taco truck stop to line dancing in St-Henri on March 9, to curator-hosted presentations downtown on March 10. The festivities move to Montreal's Plateau, Mile End and Villeray districts on March 11 with the Art Crawl and other curator-led events.
The festival is bilingual for the first time. "We felt it essential to make information available in English and French to embrace the cultural and linguistic diversity that makes Montreal so unique," Leung says.
Another new element is the Art of Survival speaker series on how to forge a career within the art world. "We've lined up a diverse panel of experienced art professionals," says Koke.
Related links:
• Art Matters site
• Faculty of Fine Arts
---