A lifetime of service
Memorial event to be held for John O'Brien, Concordia's first Rector
"There are not too many John O'Briens in our world," wrote Jim Whitelaw, a close friend and former colleague of Concordia's first rector in a stirring eulogy read at O'Brien's funeral in December.
O'Brien dedicated his entire career to Concordia, and to mark his passing the university will be holding a special memorial event on Friday, January 20 at 1 p.m. in the 11th floor atrium of the Engineering, Computer Science and Visual Arts Integrated Complex (EV).

O'Brien's affiliation with Concordia endured more than 30 years, beginning in 1954 when he was first hired as a lecturer in economics at Sir George Williams College. He was named an associate professor in 1961, and two years later appointed Dean of the Faculty of Arts.

In 1969, at just 38 years old, having proven his acumen as an administrator, O'Brien was named principal of Sir George Williams University. He held the position until the downtown university's merger with Loyola College in 1974, an event in which he played a key role. "The Loyola College/Sir George Williams merger came to fruition largely because of John's determination," Whitelaw says in his eulogy.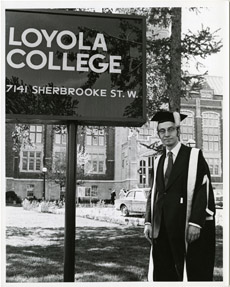 Following the merger, O'Brien was appointed rector of the newly formed Concordia University, a position he held until 1984. He went back to teaching economics until he retired in 1996. Even in retirement, O'Brien continued to support the university as Speaker of Senate.
"Think of John as Mr. Concordia," Whitelaw wrote, adding that much of the university's success can be traced back to O'Brien's leadership during his years of service to the university.

Concordia's President Frederick Lowy echoed Whitelaw's sentiments in his tribute to the university's first rector. "He was a dedicated leader and an example for all of Concordia's staff and faculty."

Some of O'Brien's family members, colleagues and friends will speak at the memorial event. Everyone is welcome to attend, and to share their cherished memories of one of Concordia's most important founders.

To confirm your attendance at the event, please contact Olga Tudos: olga.tudos@alcor.concordia.ca, or 514-848-2424 ext. 2809.

When: Friday, January 20 at 1 p.m.
Where: Room EV.11-725 (11th floor atrium), Engineering, Computer Science and Visual Arts Integrated Complex (1515 Ste-Catherine St. W.)

Related links:
• "Remembering John O'Brien, Concordia's First Rector" — NOW, December 21, 2011
• "Eulogy for John O'Brien – December 21, 2011" — NOW, December 22, 2011





---