MOtivated to support a good cause
December brings freshly-shaved faces after month of Movember
Many men sporting moustaches were seen on campus during Movember, a month-long campaign to raise awareness of and funds for research into prostate cancer.

Movember aims to change the face of men's health through the power of the moustache by raising awareness and funds that will reduce the number of preventable male deaths by cancer.
By growing a moustache during the month of November, men make a visible commitment to the cause and start conversations that might otherwise be avoided.

Among others, Concordians Karl Stamp and Julian Merid (both from the Birks Student Service Centre) and Benoit Fontaine (International Students Office) participated in Movember.

Participants — known as Mo Bros — are asked to post clean-shaven picture to the official fundraising site on November 1 and to update the pictures throughout the month with updates on their new look.

The Center for Studies in Behavioral Neurobiology (CSBN) put together a team of 34 Mo Bros and Mo Sistas (who provide moral support and have conversations to promote awareness).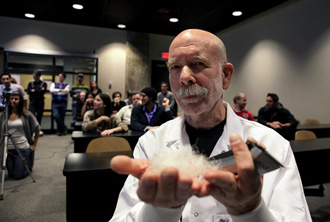 As an incentive, Shimon Amir, professor and director of CSBN, agreed to shave his trademark beard should the team raise more than $10,000. The incentive was a success — by the end of the month, the final tally reached more than $12,000.

On December 9, a group of CSBN members and friends gathered to watch Amir shave his beard after 38 years. Even his 34-year-old daughter had never seen her father's beardless face until that day. She watched the event over Skype from Israel, where she was taking a trip.

Dean Graham, leader of the CSBN team, was pleased with the campaign's results. According to his Movember profile, he joined because, "Moustaches are cool, cancer is not. Besides, Tom Selleck is my hero. But really, I'm doing this because one of my best friend's father past away this summer from cancer, and Ricky would have loved making fun of me for having a dirty 'stache."

Prostate cancer is the most common cancer to afflict Canadian men; rates are comparable to the rates of breast cancer in women. To date, $36.6 million has been raised for Movember's men's health partner, Prostate Cancer Canada.

Since its humble beginnings in Australia in 2005, Movember has spread across the globe, with official campaigns being held in New Zealand, the U.S., Canada, the U.K., Finland, the Netherlands, Spain, South Africa and Ireland.

Related links:
• Movember Canada
• CSBN Mo site
• CSBN site
• Karl Stamp's Mo profile
• Benoit Fontaine's Mo profile

---