Outgoing VP, Research and Graduate Studies honoured
Louise Dandurand bids farewell to Concordia University
Close to 200 colleagues of Concordia's Vice-President, Research and Graduate Studies, Louise Dandurand gave her a rousing send-off during an event in her honour, held at the Hive Café on the Loyola Campus.
Dandurand, who steps down at the end of December and retires from the university following an administrative leave, was praised for her accomplishments in raising the profile of research and graduate studies since coming to the job in November 2006.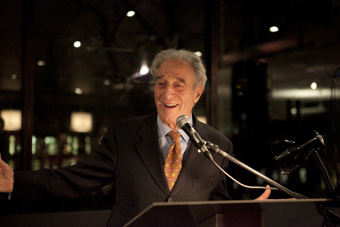 "Louise has really made a tremendous contribution here," President Frederick Lowy said. "We're going to be very sorry when she leaves." As a tribute to her efforts on behalf of Concordia, Lowy unveiled a new $15,000 scholarship in her name, to be awarded every year to a deserving graduate student. "This is something that will forever carry your name," he said. "We hope you appreciate it, because we really, really appreciate what you've done."

The Chair of Concordia's Board of Governors Peter Kruyt also expressed gratitude to Dandurand for her contributions. "Louise brought the university into the major leagues," he said. "She has been a driving force in supporting graduate studies, and making it an integral element of the broader research and training agenda at Concordia."
Before coming to Concordia in 2006, Dandurand served as president and chief executive officer of the Fonds québécois de la recherche sur la société et la culture, the Quebec granting agency for social sciences, arts and humanities. She says the position provided her with a broad perspective of Quebec's university research activity.
"Something was happening at Concordia," she recalls. "We could see that the participation of Concordia researchers was increasing. Their success rates were increasing, so I felt it was the right place to be at that time, and I certainly don't regret it. I think I was right in my analysis."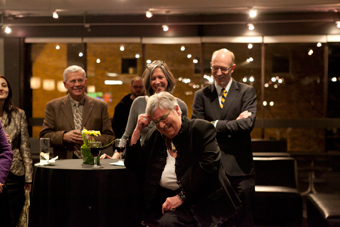 Dandurand came to Concordia as the university's first Vice-President, Research and Graduate Studies. She realized that there was a lot of work to be done if Concordia was to become a renowned research institution.

"Very interesting things were happening, but they were left to grow by themselves, and to develop by themselves, with no institutional support," she said. "It was like an area left in abeyance, as if things would happen by themselves, and it was a bit the same for grad studies."

So, Dandurand and her team rolled up their sleeves and got to work, updating research policies and creating institutional programs to support research and graduate studies.

"She brought to the Board (of Governors) a strategic plan on research, and it was adopted," Kruyt said. "Her policy on post-doctoral studies was taken up. Her institutional policies on research chairs and research units were taken up. Louise doubled the support for grad students and accelerated the development of the graduate studies program."
Kruyt said Dandurand and her team in the Office of the Vice-President, Research and Graduate Studies, also played a critical role in establishing a strategy for research funding "by creating alliances, partnerships and a common vision within the institution."

For her part, Dandurand says she is happy with what her team was able to accomplish during her tenure. She admits there's still a lot more that can be done in terms of supporting graduate studies at Concordia, but that things are moving in the right direction.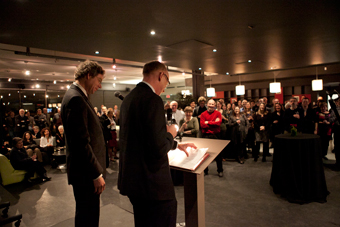 "Now, graduate student support is a priority not only in the discourse, but in the budget," she says. "There has been a significant cultural shift to give research and graduate studies their lettre de noblesse, and I think this is what my team can be very proud of."

The broader research community is beginning to take notice of Concordia largely because of the type of research going on at the university, Dandurand insists. "We're successful, but we're also innovative. I think the kind of research that's being done at Concordia is in line with the identity of the university. It's socially grounded, and I think it reflects what the university is about."

Dandurand says she has high hopes for the further development of research and graduate studies at Concordia. "I think we've put together a very strong, solid team, and I just hope that they will continue to have the necessary support at the institutional level to do their work."

The outgoing Vice-President began her academic career in the School of Political Science at the University of Ottawa. Her teaching and research interests in science policy and university research policies lead to senior roles in the field of research administration. Dandurand holds an Honours BA in History, an MSc in the History of Science from the Université de Montréal, and PhD in Political Science from the University of Toronto.

She has served on boards or steering committees of numerous organizations supporting higher education, research and innovation in Quebec, in Canada and internationally. Even though she is retiring from Concordia, Dandurand insists she still plans to play an active role in the research community in one way or another.

During her farewell speech at the event held in her honour, Dandurand thanked her colleagues at Concordia for being so supportive. She emphasized the spirit of collaboration at the university, and the quality of its educators and researchers. But she said what really struck her, and has continued to over the years, is the friendliness of everyone at the university.

"I've felt from day one extremely welcome at Concordia, and I will keep with me this souvenir of one of the warmest places I have ever had the privilege of working."

Related links:
• Vice-President, Research and Graduate Studies
• Office of the Vice-President, Research and Graduate Studies
• "Louise Dandurand to retire as Vice-President, Research and Graduate Studies" — NOW, May 10, 2011
• "VP Research earns prestigious Prix de l'ADARUQ" — NOW, November 22, 2011



---