Engineering student's work chosen for artistic merit
Image of fluid dynamics wins award for artistic value, scientific content, and originality
Undergraduate engineering student Anna Shchetinina and her professor Hoi Dick "Eddie" Ng submitted one of five winning images to an international fluid dynamics competition, chosen out of 50 entries.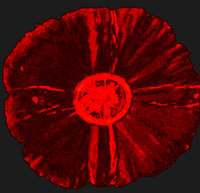 The Gallery of Fluid Motion competition, held each year by the Fluid Dynamics division of the American Physical Society (APS), recognizes images of fluid dynamics for artistic value, scientific content and originality.

The timing of Shchetinina's submission was apropos considering the competition was held in November: Her imploding circular water wave closely resembles a poppy, the symbol for Remembrance Day held every November 11.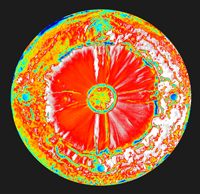 Ng is associate professor in the Department of Mechanical and Industrial Engineering and aerospace program director in the Faculty of Engineering and Computer Science. He and his students have been entering the competition for several years now and often perform well against the 50 or so entries that are submitted from around the globe.

Visually stunning and technically amazing, the image will be displayed at the Annual APS Meeting in March 2012 and will be published in the Physics of Fluids in September 2012.

Learn more about how this amazing image was created by visiting the APS website or check out the submitted poster.

Related links:
• APS site (with explanation of image)
• See the winning poster
• Conference site




---