Celebrating academic milestones
Convocation a time of reflection for newly minted graduates
Almost all of the students who took to the stage to accept their diplomas during Concordia's three fall convocation ceremonies wore huge smiles, bursting with pride in their accomplishments, as they shook hands with President Frederick Lowy, Chancellor L. Jacques Ménard and their respective Faculty deans.
Some were more coy than others, but the confidence in their steps belied delight in their new stature as Concordia graduates. Before they took to the stage, Chancellor Ménard reminded the gowned audience that their new status as university graduates comes with a certain amount of responsibility.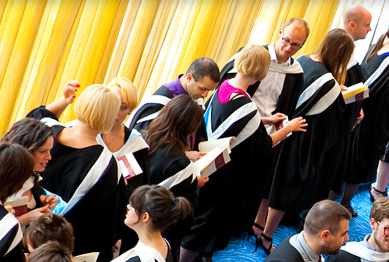 "There's no way to determine success but by the degree to which you impact people in your own personal, professional and civic lives," he said. At the end of his address, he advised graduates to add a certain amount of swagger to their step in addition to the pride of being a Concordia graduate.

Concordia's three honorary doctorates also addressed the students, providing inspirational anecdotes and sage words of advice from their positions as successful executives and professionals.

Kathy Reichs
Renowned author and forensic anthropologist Kathy Reichs received her honorary doctorate during the convocation ceremony for the Faculty of Arts and Science. During her address, she urged the newly minted graduates not to blindly charge into the next phase of their lives; but to take some time to figure out what they want to do next.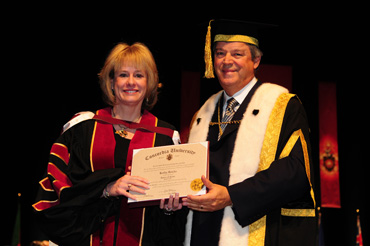 Reichs said they should expect to deal with a lot of uncertainty, and the possibility of not finding themselves exactly where they thought they were headed. She recalled how she ended up becoming a forensic anthropologist after being asked to help identify a body, and becoming a writer after being inspired by the literary success of a roommate. "If you aren't open to change and unexpected detours, you might miss some amazing opportunities," she said.

Reichs went on to provide her "bare bones" for life, in keeping with the name of the TV show Bones, inspired by her crime novels.

She said you should find good friends, "your skeleton crew," and keep them close. "Life's less scary when you don't go it alone." Next, she said that success is a matter of working hard.

"Don't take shortcuts, don't expect to get it right the first time. You'll make mistakes, don't blame them on others. Instead, use them to become better." Success is also a matter of trusting yourself, she said, quoting a famous passage from a poem penned by Marianne Williamson (often attributed to Nelson Mandela): "Our deepest fear is not that we are inadequate. Our deepest fear is that we are powerful beyond measure."

She argued for using one's voice. "Have a bone to pick. Do something, take a stand, speak out. No one is more capable. You know the world far better than my generation did." Finally, she said, the best way to be happy is to live unselfishly. "Have a code by which you live, and make selflessness a part of that code."

View Kathy Reichs' full speech:



Xavier-Henri Hervé
Xavier-Henri Hervé, president of Mechtronix Systems Inc., received his honorary doctorate during the convocation ceremony for the Faculty of Engineering and Computer Science and the Faculty of Fine Arts.

Whether graduating with an engineering or Fine Arts degree, Concordia grads are all trained as engineers of positive change, he insisted. "Whatever it is that you do, you'll be bettering the world." He implored the graduates to dare to innovate, and not to be intimidated by their own ideas.

"Vision is turning your ideas into reality. It's intimidating, but it shouldn't intimidate you. You have been born into a world with many opportunities." Nowadays, the world is multi-everything, and so it's more important than ever to understand all sorts of different perspectives, he said. "If you take the time to understand the perspectives around you, the vision will come to you itself."

Aligning people's perspectives, being able to read and understand emotions, is also key, he added. Hervé recalled how Mechtronix grew from a fledgling company into a leader in the flight-simulation industry in 10 years, mainly he said, through the team's ability to align people's perspectives. "The amount of people who said no, until we were able to align these people. Until their perception had aligned itself with what we wanted to do, they would stop us from moving forward."

The world needs leaders, Hervé said, adding that the most important part of being a leader is aligning your teammates. "Being a leader is not about being a boss, not in the traditional sense of giving orders, but having the privilege of servicing the great people around you."

Robert Courteau
The final convocation ceremony was for the graduates of Concordia's John Molson School of Business (JMSB). Interim Dean Alan Hochstein had a very simple message for the business school grads: be passionate about whatever they choose to do with their lives; that it's important to work hard, but it's essential to love that work.

Concordia graduate Robert Courteau, president of SAP North America, received his honorary doctorate during the convocation ceremony. He says he was lucky to find work that he loved in the world of information technology, even though he knew very little about it at the beginning of his career. Courteau recalled connecting with an executive at Hewlett Packard, who took more interest in the young Canadian's skiing stories than he did in his technology skills. Soon, Courteau found himself working for the tech giant; the only business grad in a room full of techies.

"At first I was completely intimidated. How was a BComm grad with no technical skills going to be successful? But looking back now, I think to myself, what a great opportunity!" Courteau said that since everyone was way ahead of him in the knowledge department, he learned the most important thing: how to listen. "It really shaped my career."

Courteau cautioned Concordia's business grads not to get hung up on making it to the boardroom. "If you're good, you'll be noticed," he said. "Climbing the corporate ladder is linear, and straight lines are boring. Don't focus on this. Think of the opportunities you'll miss if you're not willing to try something new."

Leaving his senior position at XEROX to join a zero-revenue start-up was one of the best things he ever did, Courteau insisted. People around him, including his wife, were critical of his decision, but he stuck to his guns, believing the experience would outweigh any financial sacrifice. "That experience shaped me. It made me a better executive when I came to SAP."

Courteau warned the graduates not to follow someone else's definition of the right career path. "Now is the time to experiment" he said. "Follow your heart, follow your passion, and look to experience everything that life brings to you. We're counting on you to make your university and Canada proud, and we're confident you will."
All videos of speeches by valedictorians and honorary doctorate recipients are available on Concordia's YouTube channel.
Related links:
• Concordia Convocation web page
• "Students Earn Silver and Gold" — NOW, November 15, 2011
• "Three Honorary Doctorates announced for fall" — NOW, October 12, 2011




---