The judges have spoken
And the Slice of Campus Life Photo Contest winners are...
First-year Concordia student Basma Baydoun says she was overjoyed when she heard her photograph had been chosen for the $1,000 grand prize by the judges for the Slice of Campus Life Photo Contest. "Words cannot begin to express how stunned I am," she said. "I'm going to go do a happy dance now!"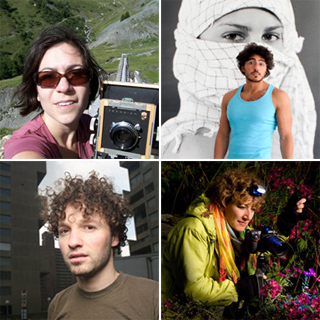 Baydoun's picture, which showed her hand holding a sketch of giraffes running in front of the J.W. McConnell Library Building, was the clear winner, according to the judges.
"We loved it because of the structure of the image," said alumna photographer Linda Rutenberg. "It just talks about Concordia and how it encourages free thinking and creativity. It was very fresh, it was humorous, and it was thoughtful. And we liked the way she incorporated herself into the photograph."

Alumnus photographer Adad Hannah, who also served as a judge, agreed that the photo works on many levels. "This image speaks eloquently about the production of images and one's own experience of space."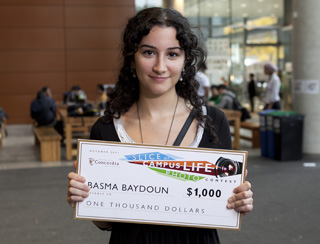 Baydoun said the idea for the shot came to her at the very last minute, and she was actually working on a different idea.

"You can make any space your own and it seems perfect to parallel that idea with an educational institution because this place is what gives you the options and the skills to do so. I'm not saying I plan on running after giraffes but the old cliché applies: the sky is the limit."

Alana Lanticic, also a first-year student, captured one of two runner-up prizes of $500 for her photograph taken from a painting studio on the third floor of the Visual Arts Building on René-Lévesque Boulevard. The view is of an empty lot, looking back towards the heart of the Sir George Williams Campus.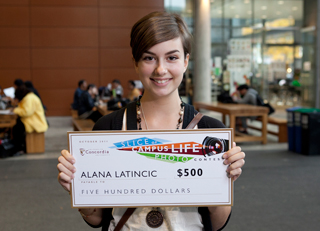 "I had arrived early to my painting class on a dreary, wet morning and, being the first to enter the room, slid the curtains back to let some light into the studio," Lanticic recalled. The scene that greeted her inspired her to dig out her phone and take a picture. "The view held a certain immensity that demanded my attention. It convinced me to take a moment out of my hectic morning to actually appreciate the nature of Montreal and its direct connection to Concordia."

Judge Jessica Auer, an assistant professor in Concordia's Department of Studio Arts, said she and the other judges appreciated Lanticic's fresh perspective. "It's an unfamiliar view of the downtown campus that reflects the university's place within the urban fabric."

Hannah added that he liked Lanticic's use of colour. "It makes the photograph float in a somewhat timeless space without being too dreamy."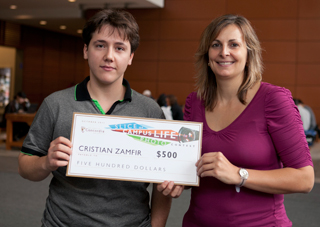 The second runner-up prize of $500 was awarded to Cristian Zamfir, who submitted a photograph of the JMSB building rendered as a puzzle with two missing pieces.
"This entry used Adobe Photoshop towards an interesting end," said Hannah. "The woman in the picture is holding what a viewer assumes to be the missing piece until we see that there is another piece missing. This is a symbolic nod to the viewer, presumably also someone from the Concordia community who is about to place the other piece. In this way, the viewer is engaged."
Director of Web Communications Lucy Niro says she was so pleased with the outcome that there are plans to make it an annual contest.

"We received a total of 211 submissions, which is impressive considering it was the first time we held a contest of this nature," said Niro. "But besides the quantity, I was truly awed and inspired by the quality of some images and the thought processes that went into capturing them. Congratulations to our winners and thank you to the judges and to everyone who took part in the contest and made it successful."

Watch the video of the Slice of Campus Life Photo Contest winners:



The judges also had three honourable mentions:

Related links:
• Slice of Campus Life Photo Contest
• "The Prize is Right" – NOW, September 27, 2011
• "Campus Photo Contest Rolls On"- NOW, September 21, 2011
• "Send us Your Best Shot" - NOW, September 14, 2011
• "Grab Your Camera and Show us a Slice of Campus Life" - NOW, September 7, 2011




---