The prize is right
Entrants ponder winning Slice of Campus Life photo contest.
Just a few more days and it'll be over.

Students, faculty and staff have until Saturday, October 1 to submit their best photograph to the "Slice of Campus Life" Photo Contest. To inspire potential entrants to get out there and capture an exquisite image of life at Concordia, NOW asked some of the entrants about their submissions and what they would do if they won the $1,000 grand prize.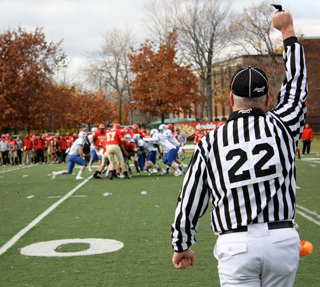 "I'll probably save the money for a journalism internship," says Hiba Zayadin, who is studying journalism and economics. "I would love to do an internship in Cape Town, South Africa."

She submitted a photograph taken at a Concordia football game. "I chose to enter this particular photo because I thought it had depth," she says.

Zayadin developed an interest in photography after learning the basics in a photojournalism class. "I developed a liking for it and an appreciation for what images can do, especially in the way they coax people's feelings."
Velibor Bozovic is in his first year of an MFA in studio arts program with a concentration in photography.
His photograph, In Between, depicts several students sitting in patches of light in the lobby of the Engineering, Computer Science and Visual Arts Integrated Complex. "This image was taken a few years ago when I first came to Concordia to inquire about the photography program," he says. "It was an interesting situation, enhanced by the late afternoon sunlight."

When asked what he would do with the prize money if he won, Bozovic prefers not to say. "I have already won," he says instead. "Some people will get to see a photo that would have otherwise been lost."

Xuan Xie, who is studying English at Concordia's School of Extended Learning, says he would use the prize money to buy a new camera or to pay for more photography courses at the university.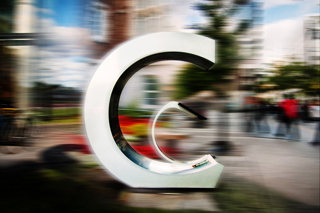 His submission consists of four overlaid images of the large metal Cs found around campus.
He was inspired to try something different after watching a video that features Concordia alumna and photographer Linda Rutenberg, who tells participants to "dig deep."

"Once I found the four Cs, I took pictures of them on a nice day and then spent a lot of time merging them into this photo," says Xie, who hopes to start in Concordia's human resource management program next semester.

Feeling he still has a lot to learn about photography, Xie is constantly reading and watching videos to learn different techniques. "I have a desire to capture beautiful scenes."
Building engineering student Ashok Thirunavukarasu submitted a photograph taken during the Concordia Student Union's orientation concert on the Loyola Campus Quad.The picture is one in a series of photographs he has taken of his favourite structures on campus and around Montreal.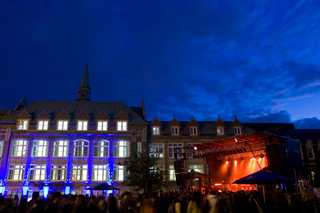 Thirunavukarasu says his love of photography stems from his broader interest in Montreal. "I am a photographer because I try to represent what I see and hear in the city," he says. "When I go on walks, I sometimes discover interesting corners of the city and I try to go back another day to take photos of them."

If he wins the grand prize, Thirunavukarasu says he will use it to buy a recording device. "I would like to start taking not just photographs of a scene, but capture the noises the city makes!" Any money left over, he says, would help pay his tuition.

The Slice of Campus Life photo contest closes on Saturday, October 1. Winners will be announced on or around Tuesday, October 11.

Related links:
• "Slice of Campus Life" Photo Contest
• "Campus Photo Contest Rolls On"- NOW, September 21, 2011
• "Send us Your Best Shot" - NOW, September 14, 2011
• "Grab Your Camera and Show us a Slice of Campus Life" - NOW, September 7, 2011



---