A cultural donation to behold
View extraordinary livres d'artistes, donated by Sylvia and Irving Camlot, at the Loyola Chapel.
Concordia's libraries are offering a rare opportunity to interact with a special piece of Quebec's cultural past.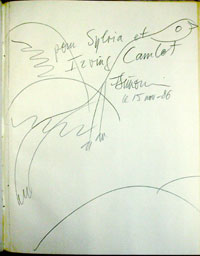 Sylvia Camlot donated a collection of livres d'artistes to Concordia in December 2010. Camlot, along with her late husband Irving collected the books in the 70s and 80s. As part of Homecoming 2011, the books will be on display in the Loyola Chapel (7141 Sherbrooke St. W.) on September 19 from 5:30 to 7:30 p.m. The event, called Talking to Books, is a chance to show off the sixteen volumes. After this, they will be available through the Vanier Library's Special Collections for consultation.

From the 60s through the 80s, limited edition livres d'artistes combined iconic works of Quebec fiction and poetry with commissioned works by both established and emerging local artists. These volumes, available through art dealers, presented the words of such luminaries as Gabrielle Roy, Anne Hébert and Hubert Aquin, with the original works of artists including Stanley Cosgrove, Arthur Villeneuve and Francine Simonin, among others.

The hand-bound volumes incorporate sculpture, metalwork, ceramics or quilting and sometimes were sold with prints for framing. "These were really fantasy books," explains Annie Murray, Digital and Special Collections Librarian, who is organizing the event partly to thank Camlot, who will be in attendance. "They represent an intersection between the literary and art publishing worlds,"
Talking to Books will also feature Fine Arts students who have researched the works presented. "They will act as guides," says Murray.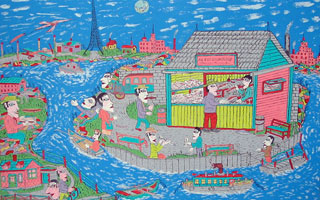 Jennifer Roberts, a master's student in Art History, selected four of the volumes to study. She later learned they were the first four books produced by Art Global, a publisher established in Quebec in 1972. "These books were produced at a high point for Quebec culture and art," she says.

Roberts, who worked as a bookseller for 20 years before returning to university, adds that many of the books had previously been published in France. In some cases, the lavish volumes represent the only Quebec editions of the works.

Talking to Books will also feature piano accompaniment by Guylaine Beaudry, Director of the Webster Library. Beaudry selected Quebec works from the turn of the century for the event.

Related links:
• Concordia libraries
• Art Global



---