Vanier scholar brings together experience across disciplines
PhD candidate in Communication Studies earns prestigious Vanier Canada Graduate Scholarship.
"There are those moments when you put things beside each other, and you know they fit together, but you have to really look closely, because you're not sure how," says M.E. Luka.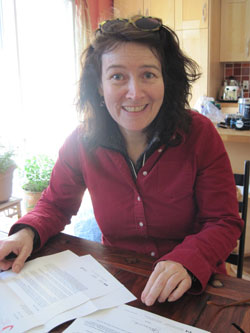 She's reflecting on the path that has led her to earn Concordia's most recent Vanier Scholarship, one of 166 allocated this year across Canada.

"In a funny way, this [PhD] project connects all the different parts of my life."

Given that Luka has studied fine arts, communications and education, and has worked as a television producer, arts fundraiser and teacher, common threads are not obvious. But then, her experience does reflect the Vanier Canada Graduate Scholarship criteria, which balance academic excellence and research rigour against leadership, community engagement and outreach.

Luka came to Concordia's Department of Communication Studies two years ago to research the potential and role of digital media in the development of arts, cultural community and cultural citizenship.

Her decision to return to school came when the CBC cut funding for Artspots, a television and Internet program she founded and produced at the network's Halifax studios from 1997 to 2008.

The program developed from a mandate to establish community ties. "It was an opportunity to really create partnerships at a deep level, " adds Luka who worked with artists, curators, arts administrators and gallery directors.

Through Artspots, Luka produced 1,200 short videos featuring 300 artists from across the country. In the process, she produced 10 documentaries. Luka had not intended to create the definitive catalogue of contemporary art production by Canadians for Canadians.

When Artspots ended, Luka realized it was time to explore another centre of creative production and Montreal beckoned.

Using Artspots as a starting point, Luka plans to study the relationship between new media production and the creation of online or digital communities.

"Concordia is exactly the right place for this research," she says, pointing to the Faculty's equal commitments to production and theoretical knowledge, with particular expertise in the arts and television.

Luka is interested in the specificity of different communities and audiences, rejecting the notion of a single, broad audience. "Media is about personal networks, about what makes life interesting." She sees possibility for creativity and community formation through collaboration between artists, producers and audiences. It's a kind of relationship-building that moves far beyond simply creating a Facebook page and waiting for a response. "That seems fairly instrumental," says Luka. "I want to ask how do you crack that open? Think more broadly and deeply?"

Already the Vanier is having an impact. Luka recently spent a week in Porto, Portugal at the joint University of Texas at Austin University of Porto Gary Chapman International School on Digital Transformation. A small group of researchers spent intensive 13-hour plus days discussing citizenship in the digital era. "This is one of the great outcomes of receiving the Vanier – having the resources to meet face-to-face with others doing research in similar areas" she says.

Related links:
• M.E. Luka
• Artspots
• Vanier College
• Digital Transfomation School
---