Israel Studies research institute announced
A donation will establish a research centre dedicated to the promotion and advancement of Israel Studies within Concordia's Faculty of Arts and Science.
The Azrieli Foundation is donating $5 million to enable Concordia University to establish the Azrieli Institute of Israel Studies. The institute, housed in the Faculty of Arts and Science, will be dedicated to the multidisciplinary study of Israel, including its history and culture, languages and politics, as well as anthropological and sociological aspects, among others.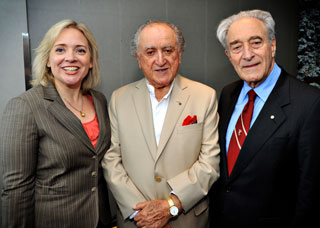 Support for visiting professors, research funding, academic exchanges, course offerings, the establishment of graduate fellowships, conferences and public events are also planned for the institute, whose mission will be to support graduate students and post-doctoral fellows, as well as to promote teaching, research and scholarship.

Naomi Azrieli, Chair of the Azrieli Foundation says, "We are delighted to support this important academic initiative. We feel that the multidisciplinary approach — which goes well beyond politics to look at culture, society, history, economics, literature, language and much more — is particularly important, and is in line with what is happening in country- and area-studies teaching and research in first-class institutions all over the world."
Concordia President Frederick Lowy says, "This is a major investment in education by one of Canada's most important philanthropic organizations. The Azrieli Institute of Israel Studies will make it possible for undergraduate and graduate students to study with recognized scholars. It will stimulate research and teaching and contribute to the study of the modern state of Israel."
About the Azrieli Foundation:
The Azrieli Foundation is a Canadian philanthropic organization established by David J. Azrieli, CM, CQ, MArch. The mission of the Azrieli Foundation is to support initiatives and develop and operate programs that promote access to education and the achievement of excellence in various fields of knowledge and activity.

Media contact:
Chris Mota
Director, Media Relations
University Communications Services
Concordia University
Phone: 514-848-2424, ext. 4884
Email: chris.mota@concordia.ca


---