Light bulb swap underway
The exchange program is part of a university-wide plan to increase energy efficiency.
Facilities Management has introduced a light bulb exchange program as part of its mandate to optimize energy efficiency measures at Concordia. Staff and faculty are encouraged to trade old incandescent bulbs around their offices for new compact fluorescent bulbs (CFBs) by simply sending an email with their request.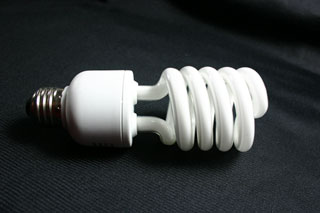 Not only do CFBs use about a quarter of the energy compared to traditional incandescent bulbs, they also have a lifespan estimated at five times longer.

"Most of us have an old bulb in a desk lamp or in our kitchenette's fridge, or perhaps even installed in lab equipment or a closet," says Daniel Gauthier, Building Performance Coordinator for Facilities Management. "This is a great opportunity for employees who haven't already made the switch to CFBs to do so," he adds.

The program applies to all incandescent bulbs used in any Concordia building and will run until the end of June. Currently, only non-dimming 40, 60 and 100 watt equivalent bulbs with standard, screw-in bases are kept in stock. These can be installed within several days. Special requests for dimming, three-way, cool white or other types of bulbs will also be considered, albeit with some delay.

Any individual who rounds up three or more old light bulbs will be entered in a draw to be held Thursday, June 23 for one of three $40 gift certificates to 3 Amigos Restaurant.

How to participate
Send an email to daniegau@alcor.concordia.ca with the following information:
Your name and department
Type of bulb requested (40, 60 or 100 watt equivalent)
Location or room number where the bulb will be replaced
Any questions or comments can also be directed to Daniel Gauthier.

Related link:
• Facilities Management


---