Biking for tykes
Concordia's John Molson School of Business and Department of Human Resources raise money for kids' health by riding the Mighty Bike.
On the morning of Tuesday, June 14, consider cheering for a group of Concordians who are raising funds for the sick children at the hospital down the street.

A group of 30 Concordia employees, most of whom are from the John Molson School of Business or the Department of Human Resources, are banding together to ride The Mighty Bike. The custom-made steel-framed bicycle accommodates 30 cyclists, an emcee and a sound system is a bit of a challenge to get moving.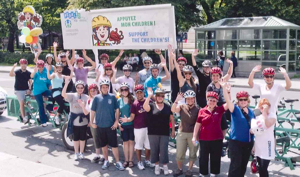 But it will take more than a mere physical challenge to keep the intrepid Concordians from raising donations for The Montreal Children's Hospital Foundation's flagship fundraiser; Pedal for Kids. On June 14 at 10 a.m., the team will set out from the hospital and should reach Quartier Concordia within 10 minutes. The Mighty Bike will continue east on Ste-Catherine Street until University Street, then back along De Maisonneuve Boulevard past the campus a second time. People on the street are sure to hear the police escort before seeing the large turquoise contraption.

To earn the right to ride the Mighty Bike, the team must reach a goal of $15,000. Individual donations can be made online in Concordia's name, or on behalf of a particular team member. Since this year's campaign began in March, $10,221 has been raised. Less than a week remains to reach the goal. The funds will go towards the hospital's research institute, their social services, the purchase of a physiologic monitoring system for the emergency department and of a patient thermo-regulating unit for brain injuries.

Recent fundraising efforts have included a pasta lunch on May 18 in the lobby of the Engineering, Computer Science and Visual Arts Integrated Complex. Both endeavours raised $1,958.25 towards the goal.

Team co-captain Ida Giannelli says, "We appreciate every donation, whether you bought a pasta lunch or if you bought some baked goods from our bake sale. We thank you, and so do the precious children."

Co-captain Eva Ferrara echoes the sentiment and reminds Concordians of a silent auction currently underway. Bids on the three children's guitars on offer will be accepted until June 10. Contact Giannelli by email (Ida.Giannelli@concordia.ca) to participate.

Related links:
• Give now
• Concordia's John Molson School of Business Pedal for Kids page
---