Selling textbooks? There's an app for that
Concordia's BookStore simplifies things for students seeking cash for old textbooks.
Students trying to determine the value of their old coursebooks can now download a free application that does the heavy lifting for them.

The app works on both the Apple iPhone and Google Android mobile platforms. The key feature of the app, developed by CutCom Software, is its ability to use a smartphone camera to read barcodes.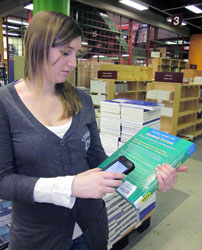 Only devices with sophisticated cameras are able to use the app reliably, which cannot function with an iPod Touch. The feature allows students to simply scan their books' barcode to enter it into a database, instead of typing in the 13-digit ISBN (International Standard Book Number).

Concordia is the first Quebec university to sign on for the app, which determines the price currently offered for textbooks, novels, plays and exercise books used in courses.
The value of each book is determined by a number of factors and fluctuates regularly according to supply and demand (how many similar volumes are available, whether the text is currently or regularly assigned, if a more recent edition exists, etc.).
If the book is being purchased by another institution, the app will let students know the going rate there. Concordia's BookStores will mediate the transaction and ship the book, for a small part of the payback.

"The used books buyback part of our business permits us to redirect cash to students who no longer need their books and to increase the availability of less expensive used books for students looking for a more affordable alternative," says Daniel Houde, director of Campus Retail Stores.

Last year alone, the BookStore paid students nearly $400,000 in cash and recycled more than 7,000 books through the textbook buyback program. More than 30 per cent of used books sold were purchased from Concordia students.

How to get the app:

Apple iPhone devices
The app can be downloaded directly onto an iPhone from the App Store: Search for "Sell books" and look for the Concordia BookStore logo. Or, from a computer, go to the iTunes website.

Android devices
Android devices can also download the app directly from the Android Market: Search "Sell your books" and look for the Concordia BookStore logo. Or from a computer, visit the Android Market website.

Related link:
• Concordia BookStore




---