What is our DNA?
Interdisciplinary conference on documentation and storytelling through new media is a "smashing success."
Communication studies professor Matt Soar characterized the weekend Database|Narrative|Archive (D|N|A) Symposium hosted at Concordia as a "smashing success," in no small part because it raised more questions than it answered.

The format of the symposium encouraged questions from the 70 or so researchers from across North America, Europe and Australia who shared an interest in documentary and experimental filmmaking.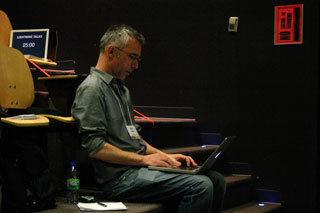 Soar coordinated the symposium with colleague Monika Kin Gagnon, both of whom are interested in emerging practices in new media that challenge traditional notions of storytelling and archiving practices with the proliferation of digital tools allowing interaction or audience-direction through multiple, simultaneous narrative threads.

In contrast to traditional, 20-minute conference talks intended to demonstrate the knowledge and research rigour of each speaker, the symposium began with each participant presenting their preoccupations in five-minute lightning talks, ending with a question. The format led to "dozens of fragments of conversations and exchanged business cards," says Soar.

The potential for new ways of telling stories was evidenced at a cabaret hosted by part-time communication studies professor Dayna McLeod. The evening began with Toronto-based director Katerina Cizek demonstrating her prize-winning Out My Window, part of the National Film Board's HIGHRISE project.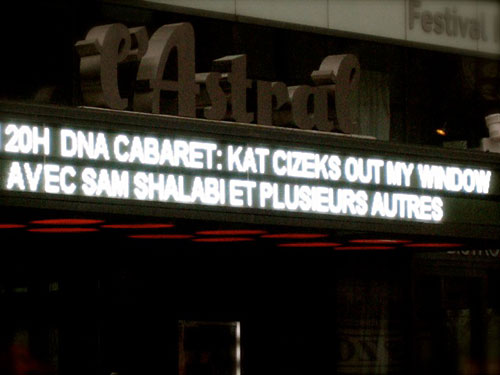 Cizek moused over an interactive website that documents the apartment-living experiences of over a dozen people around the world with photos, short videos, interviews and music.
The website allows viewers to select, piece together and design their own narrative from the connected but broad-ranging material presented. Each audience member can simply look at a photo gallery of images of different apartments, or seek out information on housing options and conditions in the different cities (ranging from Montreal to São Paulo to Bangalore).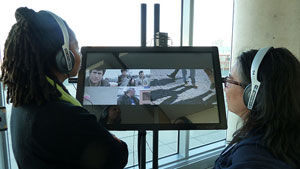 These types of interactive experiences led participants to pose questions about the role of authorship and information-gathering in the digital age. "We started to ask 'What is our D|N|A?' as a shorthand for a set of implied interests and possibilities," says Soar.

The symposium website reflected the issues raised with ongoing blog entries and tweets, along with images, presentations, video clips and demonstrations taken directly from the sessions.

"Although we have lots of different levels of experience, we share a concern for social justice, active engagement and neighbourhoods," sums up Soar. "We were all interested in how these practices operate culturally, socially and politically."

Related links:
• D|N|A Symposium
• Communication Studies
• HIGHRISE





---