A night to remember
Concordia honours contributions of stellar group at 20th Alumni Recognition Awards Banquet.
Two former ambassadors and a senator were among the 175 guests who came out to commemorate nine of the university community's best and brightest at the 20th Alumni Recognition Awards Banquet at the Hyatt Regency Montreal on May 16.

The Concordia University Alumni Association created the awards in 1990 to recognize the exceptional contributions of alumni, students, faculty members, staff and friends of Concordia and its founding institutions, Loyola College and Sir George Williams University.

Media personality Sonia Benezra (BFA 82) proved to be an enthusiastic MC for the second straight year and Concordia faculty members played a prominent role throughout the evening.
The award recipients included Steven High, a professor and Canada Research Chair in Public History, and Frank Chalk, a professor of history and director of the Montreal Institute for Genocide and Human Rights Studies (MIGS), who noted that the History Department is "the most amazing greenhouse for talent."
Canadian senator and retired lieutenant general Roméo Dallaire, MIGS Senior Fellow, came to support his colleague Chalk. Former Canadian ambassadors Malcolm McKechnie and Kenneth Taylor — best known for helping six Americans escape from Iran during the 1979 hostage crisis while he was Canadian ambassador there — were guests of their friend Paul M. Levesque (L BA 57), recipient of the Benoit Pelland Distinguished Service Award.
The event concluded with the tribute to Henri P. Habib, a Distinguished Professor Emeritus, to mark his 50 years at the university. He was given a warm introduction by Concordia President and Vice-Chancellor Frederick Lowy.
Lowy recalled that he often travelled to the Middle East with the long-time political science professor, "who was always received like royalty." Habib humbly accepted the accolades, but reiterated that university's raison d'être is the students: "They are the pillars. Without them, we don't have an institution."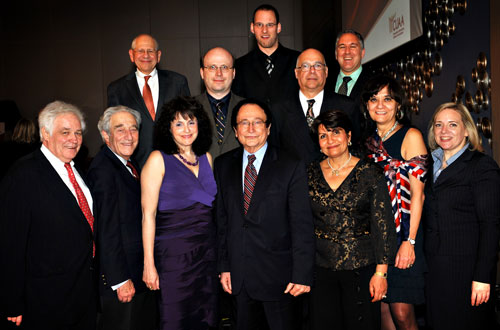 Related links:
• Alumni Recognition Awards
• Concordia University Alumni Association
• Montreal Institute for Genocide and Human Rights Studies
• Full list of recipients - Concordia Journal, May 16, 2011
---