World premiere of Evergon film
<em>Margaret & Evergon</em>, set to screen at Concordia on May 25, goes behind the scenes of the artist's intimate family portraits.
Margaret & Evergon, a new film by Canadian documentary veteran Donald Winkler, examines photography professor Evergon's relationship with his mother, Margaret Lunt, and his remarkable series of nude portraits of her.

The film will be screened as a world premiere at Concordia's J.A. DeSève Cinema on May 25.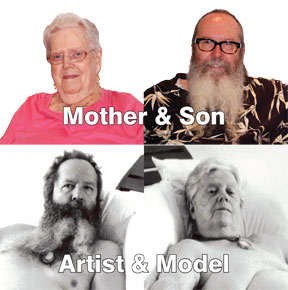 The movie features never-before-seen interview footage of the artist and his mother discussing the 1999 photo series Margaret and I — black and white images taken by Evergon that profile Margaret, who at 80 embodied not the infirmities of old age, but a timeless dignity.

The film's screening was made possible by Thomas Waugh, Concordia University Research Chair in Documentary and in Sexual Representation. Waugh described how the project was a perfect fit with his own research goals.

"As an expert on queer film, video, photography and other arts — in both the Canadian and international context — I have always been fascinated by Evergon's work," he said. "Evergon's incredibly fertile collaboration with Margaret is typical of his risk-taking trajectory over the decades and a measure of his incredible artistic evolution within the Canadian and queer traditions of artistic iconoclasm."

Of the film itself, he said: "This fine local independent production would be very worthy of support and exposure even if it weren't about my star colleague and his model/mother, and we're honoured that Don chose Concordia for its world premiere."

Both Margaret Lunt and Evergon will be present for the screening.

When: Wednesday, May 25, 2011 at 7 p.m.
Where: J.A. DeSève Cinema (1400 De Maisonneuve Blvd. W.)
Cost: Admission is free of charge. Everyone welcome.


Related links:
• Thomas Waugh, Concordia University Research Chair in Documentary and in Sexual Representation
• Evergon, Department of Studio Arts

---