Counting on conference participation
Concordia hosts joint applied statistics and interdisciplinary mathematics conferences this summer.
As Canadians participate in the quinquennial project of filling in the raw details of their lives for the Statistics Canada census, an interdisciplinary group of people across Concordia's Faculties of Arts And Science and John Molson School of Business (JMSB) are organizing Statistics 2011 Canada: 5th Canadian Conference in Applied Statistics, discussing how best to use data to make meaningful policy decisions.
For the first time, this event is being held jointly with the 20th conference of the Forum for Interdisciplinary Mathematics.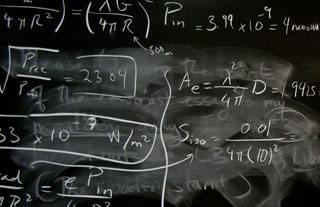 The conference is jointly chaired by Yogendra P. Chaubey, Professor and Chair of the Mathematics and Statistics Department, and Fassil Nebebe, Professor and Chair of the JMSB's Department of Decision Sciences & Management Information Systems (MIS). The sessions will take place in the JMSB Building from July 1 to 4, 2011.

The conference will feature sessions with applied themes such as agriculture, climate change, ecological data, health care research, forest fire modeling, industrial statistics, population genetics, random forests and data mining, reliability and survival analysis, risk assessment and management, supply chain management and econometric applications.
The program involves researchers from Biology, Economics, Exercise Science, Geography, Planning and Environment, Mathematics & Statistics, and Decision Sciences & MIS. It is expected to provide a forum for discussion and an opportunity for showcasing Concordia's own researchers as well. With over a month to go before the event, more than 234 abstracts have been received.

The conference will also include a poster session organized for doctoral students. The papers presented in this session will be evaluated by a panel of judges and the best poster will be awarded $500. The second prize presentation will be awarded $300.

For more about the conference, including registration information for delegates or poster presenters, visit the conference website.
Related links:
• Mathematics and Statistics
• Decision Sciences and Management Information Systems


---