Griffintown's lost community reimagined
A public art series ushers in the summer season by celebrating a lost era of Griffintown.
As spring blooms across the city, Montrealers can look forward to the latest instalments of the Urban Occupations Urbaines (UOU) series of public art installations throughout Montreal's Griffintown neighbourhood.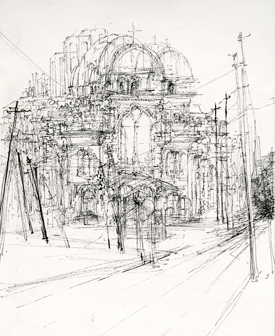 The series, curated by Shauna Janssen, a PhD student in Concordia's Centre for Interdisciplinary Studies in Society and Culture, seeks to simultaneously recall, preserve, and reawaken the people and places that have defined Griffintown — a neighbourhood that has seen massive architectural and social changes over the past 50 years.
With Candice Ivy's installation A Sounding: St. Ann's Reimagined, running on the evenings of May 6 and 7, UOU ushers in its summer series of outdoor art. Ivy's piece will be in the park built atop the foundation of Griffintown's historic St. Ann's Church, demolished in 1970. The church, says Ivy, "represented the heart of the Irish working class community in Griffintown. The remaining ruins have become a symbol for the cultural, political and economic changes within the neighbourhood."

Ivy's work seeks to "reimagine the interior architectural space of St. Ann's Church by creating a series of drawings based off both archival photographs and the rich memories and stories of St. Ann's former community members." These are to be integrated into an audiovisual installation project that Ivy hopes can bring to life the long-lost atmosphere of St. Ann's.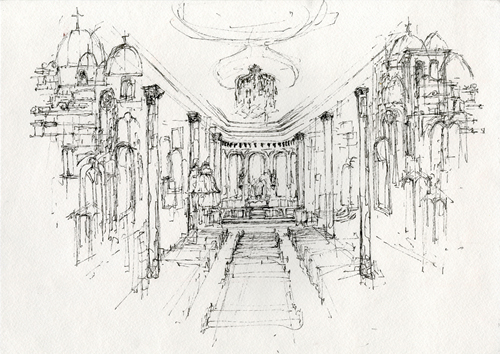 UOU organizer Shauna Janssen explains that she and Ivy hope to make the installation participatory, and invite former members of St. Ann's congregation and other members of Montreal's Irish community to bring a contribution to the work. "This could be simply a memory, or a song, for instance, to share," Janssen says. "It could also take the form of placing a candle or small object on the site."
Janssen describes the nature of UOU as a "creative platform." She says, "There's creation, there's performance, there's a visual component, there's art being made, but also I'd like to think of UOU as a site, as a stage, as a space for allowing a discourse to happen, too, about the issues of urban renewal."

Before the installation, Ivy will present some background on her process in collecting and presenting stories from the parish at Concordia's Centre for Oral History and Digital Storytelling.

What: Candice Ivy discusses her installation A Sounding: St. Ann's Reimagined
When: May 5 at noon
Where: Room LB-104, J.W. McConnell Library Building (1400 De Maisonneuve Blvd. W.)

What: Candice Ivy's installation A Sounding: St. Ann's Reimagined
When: Friday, May 6 and Saturday, May 7 from 6 p.m. to 9 p.m.
Where: Parc Griffintown-St-Ann (corner of De la Montagne and Wellington streets.)

Related links:
• Centre for Oral History and Digital Storytelling
• Centre for Interdisciplinary Studies in Society and Culture:
• Urban Occupations Urbaines
---