Acer Concordiae
The latest addition to Concordia's Public Art Collection is an apt symbol of the university's growth.
Walking through the tunnel under De Maisonneuve Boulevard has become a different, more introspective experience thanks to the newest addition to Concordia's public artwork collection.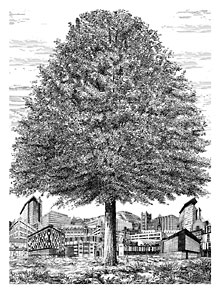 Acer Concordiae is a series of 52 laser-engraved stainless steel plaques (26 plaques in each direction). Walking through the tunnel from either end, pedestrians can enjoy a fictional narrative of Concordia's history and its place in Montreal.

The development is symbolized by the growth of an imaginary tree, the Acer Concordiae. The inspiration for the tree, says artist Kamila Wozniakowska, comes from the latin name for the Sugar Maple, Acer saccharum, the most widely-found tree in Quebec.

"A tree is the most apt symbol of growth," says Wozniakowska.

It's a fitting piece for her to contribute to Concordia. The Polish-born artist has lived in the downtown core since moving to Montreal in 1983, witnessing its evolution first hand.

"I remember when Concordia's Library Building and the MB Building were just empty lots," she says.
In her career of 20-plus years, Wozniakowska's work has been exhibited on numerous occasions in Canada, the U.S. and Europe.

Installed at the end of March, Acer Concordiae joins roughly 40 other works in the university's public art collection – half of which have been added in the last ten years.
---

Find out more about Acer Concordiae and the university's commitment to public art. Be a part of the next Open to Question session, which will focus on the importance of art to the university.
The discussion, hosted by Director of Special Projects and Cultural Affairs Clarence Epstein, will be held April 28, noon to 1:15 p.m. in room EV 1.615 in the Engineering, Computer Science and Visual Arts Integrated Complex.

Related links:
• Concordia University Public Art Collection
• Listen to all Open To Question podcasts

---