New methods and new media for storytelling
Oral history project finds creative ways to bring memory and stories alive
April 18, 2011
|
Source: Concordia Journal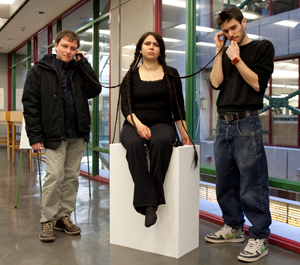 Authors and artists are understood to be the tellers of tales and the framers of events.

That one-sided relationship is being reinvented by the dozens of research, creative and community partners involved in the nearly seven-year history of Concordia's Montreal Life Stories oral history project. Currently, the Faculty of Fine Arts (FOFA) Gallery is presenting [in-tur-pri-tey-shunz], an interdisciplinary group show on the intersections between oral history and contemporary art, featuring some of the Montreal Life Stories partners.

"This has become a deep conversation with artists, because of the large number of artists in connection with the project," said Steven High, history professor and principal researcher. He spoke with several other researcher-creators involved in Montreal Life Stories at a round table discussion on Oral History and the Arts presented in the context of [in-tur-pritey- shunz], on until April 29.

Montreal Life Stories involves "listening deeply to people from around the world," according to High. That project has stretched beyond compiling interviews of Montrealers arriving from sites of conflict and genocide to a multidisciplinary effort about the ethics of interviewing, archiving, authorship and ultimately, how such stories are shared. All of those themes are central to [intur- pri-tey-shunz] and were raised at the April 7 discussion.

Ted Little, a professor in the Theatre Department, co-taught a course with High over the last academic year that brought together an equal number of theatre and oral history students. Part of the inspiration for that project came from the comments of psychologist and playwright Henry Greenspan at a conference hosted by Concordia 18 months ago.

"He said we need to move beyond tellers and listeners, becoming partners in sustained, longer conversations," said Little at the round table discussion.

Also participating at the April 7 discussion was Pohanna Pyne Feinberg, a graduate student in art history who curated [in-tur-pri-tey-shunz]. Other artists on the panel and in the show included Open Media MFA student Khadija Baker; Studio Arts MFA alumna and lecturer Héloïse Audy; and Aboriginal Territories in Cyberspace (AbTeC: Jason Lewis and Skawennati Tricia Fragnito).

All of the panellists stressed the importance of allowing individuals to speak for themselves. "The spoken word is so powerful, when you bring it to text you lose so much," said High.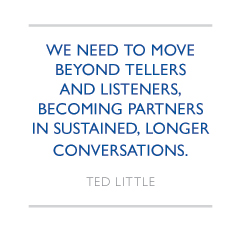 Baker's work is influenced by her childhood in a Kurdish town in Syria. She spoke of the challenges of growing up in an oral culture in a context where she was "not allowed to speak or write our language." Her work often involves recorded stories using "people's real voices." Audy echoed that sentiment. In her work, she incorporates other people's stories. "Often the tone of voice has more meaning than what they are saying."

Surpassing the roles of teller and listener, as Greenspan suggested, was the theme of High and Little's course. The stories and the experience of collecting and absorbing those stories were equally important in the two-semester class. The students all moved outside of their comfort zones, in the first term designing interviews and in the second using contemporary dance and performance to find what Little described as embodied ways to tell those stories. Little stressed that the class was closed, to create a safe, shared space to explore the material without the ethical considerations of presentation or public performance.

"The students were expected to introduce someone they had interviewed, to walk in someone else's shoes," said Little, setting aside their own expectations in the process.

At the round table discussion, Fragnito talked about AbTeC's work with students at the Kahnawake Survival School developing a video game. The intention was to base it on existing legends and stories, "but we kept asking ourselves, what do we do if they want to produce Grand Theft Auto?" The traditional stories also had really complex restrictions in terms of when they could be told and by whom.

Ultimately, the students developed a meta-narrative, taking bits and pieces from several stories. "It was really a brilliant end run," said Lewis, "It also made the story a communal project."

This ongoing collaboration between teller, listener and audience remains key for the ongoing presentation of material collected through Montreal Life Stories.

Related links:
• [in-tur-pri-tey-shunz]
• Concordia's Centre for Oral History and Digital Storytelling
• Montreal Life Stories
• Aboriginal Territories in Cyberspace
---