Fifth anniversary of Montreal UNESCO City of Design
Concordia takes part in celebrations to underline its commitment in making the metropolis an example of modern design.
Concordia University will celebrate the fifth anniversary of the naming of Montreal as a UNESCO City of Design by paying tribute to the numerous artists and Concordia graduates who help make our city more attractive, inspiring and sustainable.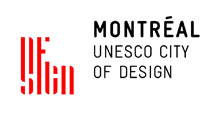 In recent years, Concordia has successfully redesigned and reshaped a large segment of Montreal's western downtown. Impressive buildings bear witness to modern design and innovative and even avant-garde architecture. The university has created a new urban identity by adopting the principles of sustainable development and installing numerous works of public art.

"Our institution cares deeply about the social issues involved in city planning and the environment. Our buildings in the heart of the Quartier Concordia enhance the quality of Montreal design and architecture," notes Clarence Epstein, Concordia's Director of Special Projects and Cultural Affairs. "The university's participation in Montreal UNESCO City of Design activities reflects its commitment to making this a modern metropolis that's an example of design."
A case in point is the glass artwork by artist Nicolas Baier that decorates one of the facades of the Engineering, Computer Science and Visual Arts Integrated Complex and provides a dazzling complement to the Montreal landscape. Likewise, the immense mural entitled Lierre sur pierre, designed by Geneviève Cadieux and attached to the De Maisonneuve Boulevard facade of the John Molson School of Business, illustrates Concordia's community engagement.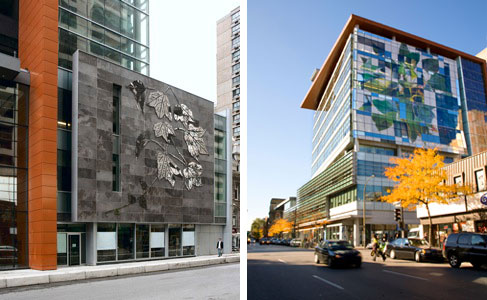 Construction of these two buildings resulted from a national architectural competition, won by the architectural firms of Kuwabara Payne McKenna Blumberg and Fichten Soiferman and Associates, who formed a consortium called KPMB/FSA.
Another notable public artwork at Concordia is Leap, which was created by artist Adad Hannah for the facade of the PERFORM Centre.
Two storeys high, the work is clearly visible from Sherbrooke Street on the Loyola Campus as well as from inside the building. This immense photographic art mounted on glass in vivid colours eloquently illustrates the centre's mission and depicts a group of human silhouettes in full physical activity.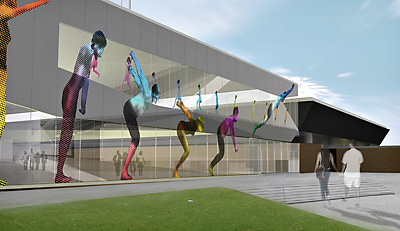 Next fall, Concordia will inaugurate the PERFORM Centre, whose mission is to develop research and teaching in the fields of exercise physiology and sports therapy. The university will also open the doors of its Centre for Structural and Functional Genomics, where researchers are working to reduce dependence on non-renewable energies.

With the inauguration of these two buildings, Concordia will celebrate the work of architects Saia Barbarese Topouzanov for the PERFORM Centre and the consortium of Marosi+Troy, Cardinal Hardy and Jodoin Lamarre Pratte for the Centre for Structural and Functional Genomics. Both teams are re-energizing the Notre-Dame-de-Grâce neighbourhood by creating a brilliantly attractive urban landscape.

Related links:
• Montréal Bureau du design
• UNESCO's Montreal, City of Design page
• Quartier Concordia
• "New Public Artwork by Adad Hannah," - NOW, November 23, 2010
• Centre for Structural and Functional Genomics
---