Feedback on sculpture mystery
Public weighs in on "The Starving of Saqqara"
The Starving of Saqqara, a sculpture in Concordia's possession since 1999, has garnered considerable public interest since its first-ever public display last month.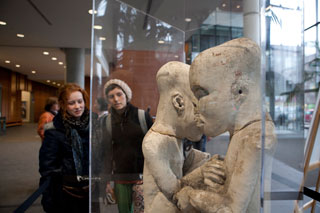 For three days, Concordians and the general public were invited to view and comment on the work. Hundreds of Montrealers came to see The Starving of Saqqara in the Atrium of the Engineering, Computer Science and Visual Arts Integrated Complex. People were asked to opine on whether the work was a priceless artifact or an outright fake. Some theorized the sculpture was actually the remains of fossilized aliens, while others surmised it was of African origin.

"In showcasing The Starving of Saqqara, our main goal was to raise awareness about the challenges of researching archaeological artifacts," says Clarence Epstein, Concordia's Director of Special Projects and Cultural Affairs, who has investigated the sculpture's origins for 10 years. "Our goal was to ensure this enigmatic work, once part of the Diniacopoulos Collection of Mediterranean antiquities, could gain public appreciation after remaining in a wooden crate for decades."

While international experts have been consulted about the sculpture, no authority has yet been able to confirm its pedigree.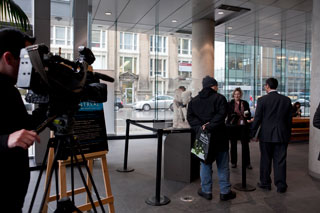 The Starving of Saqqara can be seen in a video montage on Concordia's YouTube channel. The video – prepared by University Communications Services' Salvatore Barrera, using photos taken by Pierre Dalpé – broke records with 4,500 views in less than one week. Read or add to the comments on the enigmatic work.

Following national media coverage — from the Gazette and the Vancouver Sun to CTV National News and CBC's As It Happens, and in French outlets such as Le Devoir and Radio-Canada — the general public and experts provided several hypotheses. National media coverage also enabled millions of Canadians to learn more about a previously unknown artifact.

George W.M. Harrison, a professor in Concordia's Department of Classics, Modern Languages and Linguistics, co-edited a book of scholarly essays that refer to the inscrutable artifact. Harrison plans to use public feedback as leads to further investigate the origins of The Starving of Saqqara. "Our hope is to solve the mystery of this work," he says.

Please click here for public comments on The Starving of Saqqara.


Related links:
• "CSI Montreal: Concordia Sculpture Investigation" - NOW, March 15, 2011
• Diniacopoulos Collection
• "Passionate Collectors" - Journal, March 7, 2011
• Concordia Department of Classics, Modern Languages and Linguistics

---