Lex Gill, a brand-new student president-elect
The Your Concordia slate wins the student elections with transparency as their platform.
The Concordia Student Union (CSU) will be ushering in a new set of executive representatives, with Lex Gill as president-elect for the upcoming academic year.
Gill and her slate, Your Concordia, won the annual election for undergraduate student representatives held this year March 29 – 31. The team's platform promised to make student government stronger and more democratic.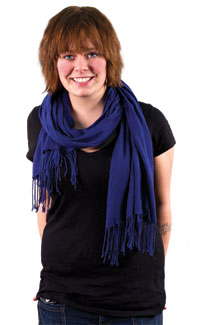 This past year has presented the student union with challenging issues to tackle, from the provincial announcement on tuition increases to the student-led campaign to ban bottled water sales on campus. These issues will be of continuing importance for the new CSU executive and Gill maintains that they will address these and other issues with complete transparency.

"Broad outreach strategies, public information campaigns, and an open-door, open-books policy is something we've committed to as the incoming CSU executives," says Gill.

During her time in office, she hopes to see stronger, more informed and vocal representation from undergraduate students across the university. She maintains that students should be knowledgeable about how the student union and the university function, so that they can have input regarding critical issues.

"We hope that creating a renaissance of vibrant student leadership and creative problem-solving for issues that face students in the 21st century can be part of our legacy at the CSU," says Gill.

Currently, hikes in tuition are at the forefront of ongoing discussions. The Quebec government's intention to raise tuition over the next five years will impact all students. Gill hopes that the university administration will collaborate with the CSU's advocacy and action plans to keep post-secondary education affordable.

But tuition isn't the only thing on the agenda for this year. In addition to student government elections, students voted on a series of referenda. One referendum question was a call to ban the sale of bottled water on campus, which received overwhelming support. Among the issues placed on ballots before the students were two new fee levy campaigns to provide direct student funding to student-run projects. The first was a proposal to expand Queer Concordia as a service organization on campus, which passed. However, the second motion for The Void, a literary arts magazine was rejected.

The last referendum question dealt with increasing the fee levy for CJLO, Concordia's campus radio. Although this failed too, Gill maintains that the new executive will actively pursue ways to promote and support student-run media this year.

Lex Gill is ready to turn her campaign promises into action and produce an active and engaged student governing body to represent Concordia's undergraduates.

Related links:
• Your Concordia



---