Ways of Memory: The Montreal Experience
Largest gathering of Montreal anglophone heritage advocates deemed a successful start to ongoing collaboration.
March 29, 2011
|
Source: Internal Communications
A capacity crowd met at Concordia University on March 26 to discuss ways to collect and preserve Montreal's anglophone heritage.
A conference entitled Ways of Memory: The Montreal Experience united community leaders, researchers, students and heritage enthusiasts discussing common concerns ranging from opportunities for funding to the role of oral history and new media and how to inspire neighbourhood projects.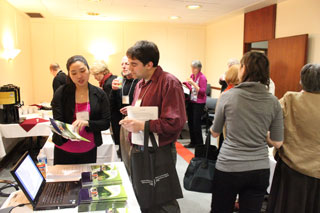 "We were expecting 100 people and we had a capacity crowd," said Lorraine O'Donnell of the Quebec English-Speaking Communities Research Network (QUESCREN), a joint initiative of Concordia's School of Extended Learning and the Canadian Institute for Research on Linguistic Minorities.
"There were people from across the island of Montreal and beyond, and all three levels of government. This was a really important first step to working together."

On hand for the event were many heritage advocates including keynote speakers Dinu Bumbaru, Policy Director for Héritage Montréal and well-known heritage preservationist Michael Fish, as well as Helen Fotopulos, Montreal city councillor and member of the city's executive committee responsible for culture, heritage and women's issues.

The event was an initiative of the Quebec Anglophone Heritage Network (QAHN) in collaboration with QUESCREN, the Concordia University Centre for Oral History and Digital Storytelling, the Greater Montreal Community Development Initiative, and the Quebec Association for Adult Learning.

Related links:
• Quebec English-Speaking Communities Research Network
• Centre for Oral History and Digital Storytelling
• Quebec Anglophone Heritage Network
• Héritage Montréal
• Greater Montreal Community Development Initiative
• Quebec Association for Adult Learning

---