Prayer shawl in a laptop case
Math prof writes novel set in Hasidic community.
Joseph Rosenblatt is no ordinary Montreal Hasidic Jew. He's the creation of an unlikely author: Abraham Boyarsky, a professor in Concordia's Department of Mathematics and Statistics, who is a mathematician by day and a novelist by night.
Rosenblatt, the protagonist of Boyarsky's latest novel, Inverse Images (Mosaic Press 2011), is a university physics professor who has rocked a few adventures in the outside world. Through a backwards lens (the Inverse Images of the title) Rosenblatt looks over the decisions he's made in the past that have led him to a deeper understanding of himself.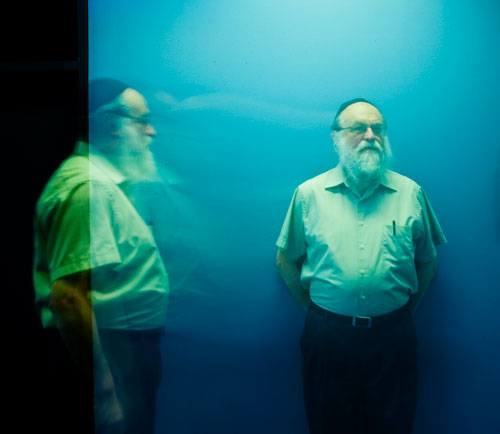 He's roared off to Quebec City on the back of a Harley, his arms wrapped tightly around Geneviève, a French-Canadian separatist whose left arm is tattooed with numbers, "in solidarity with the murdered six million Jews."

He handles his own when a couple of young Hasidic men attack him, kicking one in the groin, and moving "with fury" toward his second attacker, "lunging his closed fist, spear like, into the boy's chest." And when one of his sons passes away, Rosenblatt slips into a health club, "wearing a sweatshirt, running shoes and a black beret" (presumably to cover his yarmulke), to snoop for clues.

Rosenblatt is conflicted about the two worlds he lives in. He is at once rejected by his Hasidic community, and rejects his own family life. He sees his wife as "a slave serving his goals." When she suddenly starts having life-threatening seizures, he blames her: "If only you could have tolerated a bit of stress, none of this would have happened." And, he admits, it's been "many years" since he has seen her "as a full and intelligent partner in his life."

The fictional professor dallies in a dangerous correspondence with a blond, tango-loving student, who is suddenly infatuated with her much older and entirely unathletic teacher. Rosenblatt also jets off to Israel to stoke the faded coals of an old fling. He tucks away his dual life as discretely as he stuffs his prayer shawl into his laptop case.

"Joseph Rosenblatt is a man of science living in an Orthodox Jewish community," Boyarsky explains. "He thrives in this duality until confronted with the education of his children. Confronted by extremists, both in the community and within his own family, he realizes the hopelessness of the quest, most forcefully during the climactic scene where he is beaten by his son."

Rosenblatt's creator lives a dual life of his own. A full-time mathematics professor at Concordia, who is heavily involved in Montreal's Hasidic community, Boyarsky also has 13 children and some 30 grandchildren. "We have a custom not to count," he says.

Inverse Images is Boyarsky's fifth novel. He has also penned 26 short stories and authored or co-authored 150 research papers in mathematics.

To learn more about Boyarsky's writing prowess, please read the April 4 edition of the Concordia Journal.
Hear an extract from Boyarsky's novel:


Related link:
• Concordia Department of Mathematics and Statistics


---