Student Union supports students in need
Part of the Concordia student fee levy goes to bursaries for outstanding students who need financial support.
Over 200 students have received $500 bursaries since the Concordia Student Union (CSU) decided to start offering students financial support.
The CSU has 30 bursaries of $500 each available for eligible students across all Faculties for the Fall 2011 term. The decision was made in 2004 to set aside $15,000 of the CSU fee levy to support students who deserve recognition for their achievements and have a demonstrated financial need.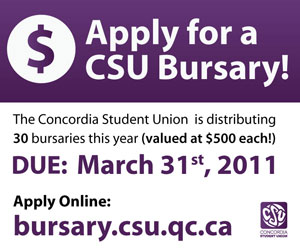 Students who have attended Concordia for at least one semester can apply online (see link below).
In addition to three bursaries available for each Faculty, a number of other bursaries are also available, including ones for international students, out-of-province students, mature students, athletes and students who have demonstrated leadership or made an outstanding contribution to student life.

"Starting next term, we will set aside two bursaries for students who have volunteered abroad," says Hassan Abdullahi, the CSU Executive member who is overseeing the application process. He added that the CSU academic subcommittee works with the Financial Aid and Awards Office to allocate the bursaries.

Individuals can apply for more than one bursary, if eligible, but will only receive one. Application details and instructions are available online and must be submitted by March 31, 2011. Members of the CSU, Judicial Board or related bodies may not apply.

Questions can be sent to Hassan Abdullahi at academic@csu.qc.ca.

Related links:
• For information on eligibility, an FAQ and the necessary forms
• Financial Aid and Awards Office
---