Creative Arts Therapies Week
A series of performances, screenings and experiential workshops will take place at Concordia to mark this provincial event.
The Department of Creative Arts Therapies kicked off the provincial Creative Arts Therapies Week at Concordia with a forum on March 22 showcasing the therapeutic applications of various creative arts disciplines such as visual arts, dance/movement, music and drama.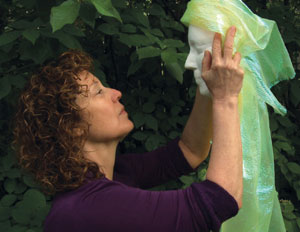 The forum launched a series of performances, screenings and experiential workshops intended to demonstrate and present the potential of creative arts therapies across many disciplines. This week also marks the approval of Concordia's MA-level program in Creative Arts Therapies (Music Therapy option).

Among the activities presented throughout the week are a vast variety of creative endeavours, including the play You Arrive by Bonnie Harnden; a workshop by department chair Stephen Snow and Maud Gendron-Langevin called Exploring a New Model for Diversity Training Through Drama Therapy; or the opening of La Ruche d'Art St. Henri Community Studio and Science Shop, a project by Janis Timm-Bottos.

The Story Within: Myth and Fairy Tale in Therapy, a film produced and directed by Yehudit Silverman, examines six people's use of fairy tales to prompt journeys of profound self-discovery. It is showing on Wednesday, March 23 at 6 p.m.

For those wanting to nurture their spontaneity, they can discover their potential through the Developmental Tranformations (DvT) workshop with Jason Butler. DvT is an approach that assists individuals in working through blocks and in cultivating personal creativity. This workshop will be experientially based and will engage participants in a state of play. It is on Saturday, March 26, from 9:30 a.m. to 12:30 p.m.

For a full list of activities taking place during Creative Arts Therapies Week from March 19 to 27, 2011, including details of times and locations, visit the Creative Arts Therapies website.
Related link:
• Music Therapy MA
---