CSI Montreal: Concordia sculpture investigation
Rare find or modern forgery? Public input sought to solve mystery of supposed antiquity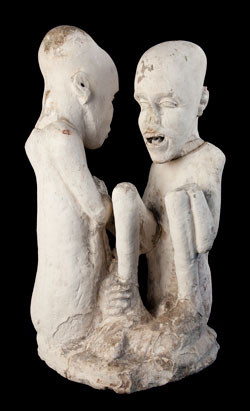 Grotesque or beautiful? Priceless or worthless? Rare antiquity or outright fake? For more than a decade Concordia University has investigated the origins of a mysterious sculpture. Once part of the Diniacopoulos Collection of Mediterranean antiquities, it has been in the university's possession since 1999.
The 67-centimetre-high limestone work, with traces of pigments, depicts two nude seated figures with large heads. It also features inscriptions in what appears to be an ancient yet unidentified language.
To learn more about the artwork, Concordia's Director of Special Projects and Cultural Affairs, Clarence Epstein, has consulted experts from Cambridge University, the British Museum, the Brooklyn Museum, the Israel Museum and the Royal Ontario Museum.
So far, no authority has been able to confirm the sculpture's pedigree.
"One specialist commented that if it can be proven to date to the period when the Jews were exiled from Egypt, it could be one of the rarest finds of its kind," says Epstein. "Another archaeologist suggested the statue was either from a predynastic tomb or was an outright fake."
Vincent and Olga Diniacopoulos, who amassed a collection now dispersed in museums and private collections the world over, brought the work to Canada. Identified as The Starving of Saqqara, the sculpture was exhibited in the 1950s at their family-owned Galerie Ars Classica on Sherbrooke Street in Montreal. The name Saqqara refers to the vast burial ground in the ancient capital of Memphis in Egypt. However, how this region relates to the work or how it received the name remains part of the mystery.
March 16 to 18: Public display
Concordians and members of the public will have a rare opportunity to see and comment on The Starving of Saqqara, which remained in multiple fragments in a sealed crate for almost half a century.
For three days the sculpture will be displayed in the Atrium of Concordia's Engineering, Computer Science and Visual Arts Integrated Complex (EV, 1515 Ste-Catherine St. W.) next to the building's security desk. It will be accessible from 10 a.m. on Wednesday, March 16 until 1 p.m. on Friday, March 18.
The enigmatic work can also be viewed at concordia.ca/diniacopoulos.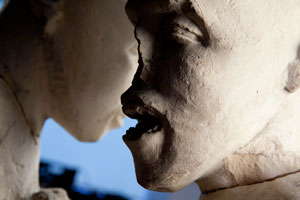 Book launch and lecture
On March 16 Concordia will launch a second volume dedicated to the antiquities of Vincent and Olga Diniacopoulos. Life and Death in Ancient Egypt: The Diniacopoulos Collection features a dozen English and French scholarly essays.
Edited by Concordia professors Jane Francis and George W.M. Harrison, the volume examines a variety of Egyptian works from portable limestone offering tables, to funerary sculpture, to a miniature statue of Zeus in swan-form in amorous embrace with Leda, Queen of Sparta.
"For centuries, ancient Egyptian cemeteries have been plundered by treasure hunters. Otherwise lost to scholarship, many of these antiquities later entered legitimate collections like the Diniacopoulos Collection, which fortunately have allowed their display and publication," writes essayist Susan Redford from Pennsylvania State University.
As for The Starving of Saqqara, Swiss art historian Jean-Jacques Fiechter posits in his essay: "An experienced collector and connoisseur, such as Vincent Diniacopoulos, would not have bought this piece, nor shipped it at great cost to Canada, had it not been considered authentic."
"Life and Death in Ancient Egypt: The Diniacopoulos Collection" lecture and book launch took place on Wednesday, March 16 in the Maxwell-Cummings Auditorium at the Montreal Museum of Fine Arts (Michal and Renata Hornstein Pavilion, 1379 Sherbrooke St. W.).
Related links:
• Diniacopoulos Collection
• "Passionate Collectors" – Journal, March 7, 2011
• Concordia University
• Montreal Museum of Fine Arts
Media contact:
Sylvain-Jacques Desjardins
Senior advisor, external communications
Concordia University
Phone: 514-848-2424, ext. 5068
Email: s-j.desjardins@concordia.ca
Twitter: twitter.com/concordianews
---