Concordia students take it to the streets
Video report on student-led 5 Days for the Homeless fundraiser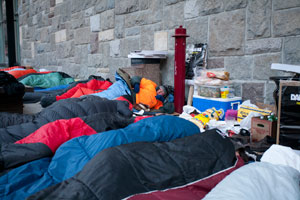 Concordia students, along with thousands of peers across the country, are uniting to raise funds for homeless youth this week.
Until Friday, March 18, they'll be sleeping outside the Henry F. Hall Building at Mackay Street and De Maisonneuve Boulevard, as part of 5 Days for the Homeless – a national event for which Concordians have raised some $100,000 over the last four years.
This year, for the first time, Concordia students will be joining forces with teams from HEC Montréal, McGill University and the Université du Québec à Montréal. Concordia's participants hope to raise $35,000.
Students will collect funds for Dans la rue, a local organization that reaches out to street youth. The students will spend five days sleeping on the streets – rain or shine. The event, originally backed by John Molson School of Business students, has since recruited participants from all disciplines.
Vanessa Manco, a student in the Concordia Department of Classics, Modern Languages and Linguistics, is taking part in 5 Days for the Homeless. She looks forward to her first experience with the fundraiser – even though she's a little nervous about sleeping on the streets.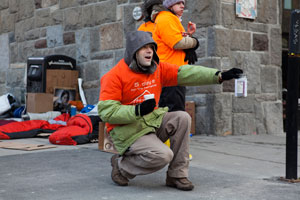 She knows there won't be any home-cooked meals, cellphones, laptops, showers or beds – only cardboard boxes and sleeping bags. While she'll attend classes, Manco won't be allowed to buy food and she'll have to rely on edibles donated from passersby.
Journalism student Michel Boyer followed Manco with his video camera as she moved from her cozy home to sleeping on the hard and cold pavement.
Anyone wishing to donate can give directly to participating students or via the 5 Days for the Homeless website.
Related links:
• 5 Days for the Homeless
• 5 Days for the Homeless on Twitter
• Dans la rue
• "5 Days for the Homeless" – Journal, March 7, 2011
• Concordia's John Molson School of Business
• Concordia Department of Classics, Modern Languages and Linguistics
---