5 Days for the Homeless
Concordians expect to raise thousands of dollars by sleeping outside for a fourth year
March 7, 2011
|
Source: Concordia Journal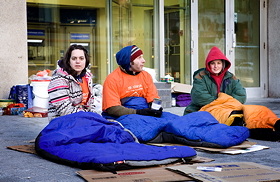 A group of determined Concordians will spend nearly a week sleeping outdoors on the city streets to raise funds for Dans la rue, a Montreal organization that helps those without homes.

With the event starting on March 13, there's still time to get involved and make a difference.

5 Days for the Homeless is a campaign that has volunteers live "homeless" on their campus for five days to raise money and awareness for a local charity. This is the fourth year that participants will sleep outside, relying on whatever food or resources they are offered by passersby.

The goal for Concordia this year is $35,000. Teaming up with other Montreal universities École des Hautes Études Commerciales (HEC), McGill, and Université du Québec à Montréal, the total they hope to reach is $50,000.

This year, participants will be in Place Norman-Bethune outside the GM Building (1550 De Maisonneuve Blvd. W.) from March 13 to 18.

"We'd love to have 15 people sleep out there for the full five days, but anyone is welcome to sleep outside for a night or two," says Collin Potter-Bonar, a third-year political science undergraduate and one of the initiative's coordinators this year.

Among past guests have been Dean of Students Elizabeth Morey, 74-year-old John Molson School of Business professor Mahesh Sharma, local radio personalities Aaron Rand and Murray Sherriffs, as well as Member of Parliament for Papineau Justin Trudeau.

To reassure those interested in taking the challenge, Potter-Bonar says Security will be keeping a close eye, and will also provide a secure space to lock up personal valuables.

If sleeping outside during winter's final throes seems a bit daunting, coordinators encourage anyone to stop by during the day and help collect money or just spread the word.

"It's such a moving experience to put yourself in the shoes of someone less fortunate than you," says coordinator Josh Redler (BComm '08), who has been part of every 5 Days campaign since they began in 2008.

"To newcomers or people on the fence, all I can say is dress warm and be ready for any type of weather. And based on the past, I also know that if you come out for one night, you're going to want to stay out the rest of the week."

Donations can be made on the 5 Days website. Contributions can be directed specifically toward Concordia's effort.

Also, keep an eye out for 5 Days volunteers (recognizable by their signature orange T-shirts) circulating around campus in the days before the campaign begins. Offices or departments interested in helping the cause can also circulate a 5 Days for the Homeless donation jar, available from the 5 Days website.

All donations over $20 are eligible for a tax receipt.
Related links:
• 5 Days for the Homeless
• 5 Days for the Homeless on Twitter
• "5 Days and 5 Nights" – Journal, March 18, 2010
• "120 Hours on the Streets" – Journal, March 19, 2009
• Dans la rue
---