Concordians put their heart into it
Heart and Stroke Foundation events raise over $1,000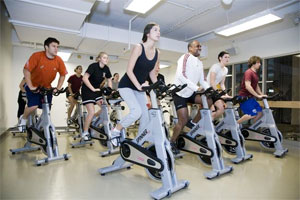 Members of the Concordia community learned about heart health and donated funds to prevent heart disease on Valentine's Day.
A daylong series of events on both campuses raised $1,420 to support the Heart and Stroke Foundation of Québec.
In addition to giving generously, those who dropped by were able to learn the benefits of diet and exercise from members of Health Services who were at the events and spinning class demonstrations offered by Concordia's Le Gym staff.
Organizers at Hospitality Concordia would like to express their appreciation to donors and volunteers who offered their time and professional expertise with demonstrations.
Related links:
• "Hearts Aren't Just for Valentines" – NOW, February 8, 2011
• Concordia Recreation and Athletics
• Concordia Health Services
• Hospitality Concordia
• Heart and Stroke Foundation of Québec
---