Darwin: Endless Forms Most Beautiful
A unique production based on the life and work of evolutionary scientist Charles Darwin will be performed at Concordia this month
Darwin: Endless Forms Most Beautiful is a new multimedia work surrounding the life and ideas of Charles Darwin, his theory of evolution, and the conflict between science and belief.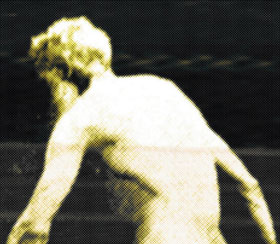 The production, a collaboration between the departments of Theatre and Music, explores the notion of artificial intelligence and the mechanisms of evolution through experimental scenography featuring video, sound manipulation and visual projections.

Directed by Keith Turnbull, the production will feature the original music of Ralph Denzer (Special Individualized Program MA candidate) and text by Theatre graduate Ryan Hurl (BFA '08), and was developed in conjunction with a student ensemble of seven singer/actors and six instrumentalists in a creative laboratory setting.

True to Darwinian theory, the piece itself will evolve over its four-day, five-show run.

Darwin: Endless Forms Most Beautiful will be performed at Concordia's Oscar Peterson Concert Hall, 7141 Sherbrooke St. W.:
February 17, 8 p.m.
February 18, 8 p.m.
February 19, 2 and 8 p.m.
February 20, 2 p.m.
Tickets are $5 for seniors and students, and $10 for everyone else.

For tickets or for more information, please call 514-848-2424, ext. 4742 or email tickets@alcor.concordia.ca.
Watch the video taken during rehearsals, with commentary from the director Keith Turnbull:

Related Links:
• Oscar Peterson Concert Hall
• Concordia Faculty of Fine Arts

---