Engineering new uses for smartphones
New Canada Research Chair Roch Glitho brings novel ideas to communications consumers
With the appointment of Roch Glitho as Canada Research Chair in End-User Service Engineering for Communications Networks comes the potential to unlock a world of communications possibilities.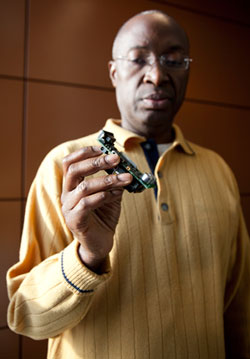 As a professor at the Concordia Institute for Information Systems Engineering, Glitho is developing applications to adapt cellphones for a range of new functions. He is exploring how geolocating software can allow cellphone users to better interact with their environments (be reminded of items to purchase when passing a pharmacy or grocery store).
Glitho is also considering how existing sensor technology, capable of measuring space, temperature, environment or luminosity, might be used in cellphones in everyday situations. For example, sensors might be able to detect the maturity of produce.
Glitho has written more than 100 peer-reviewed papers and earned 24 patents (with several pending applications) in communications-related areas in his positions in the industry (he worked at Ericsson for over 25 years) and academia (Glitho is an adjunct professor at the Institut de Mathématiques et de Sciences Physiques at the Université d'Abomey-Calavi in his home country of Benin).
For more about Glitho and how his research will change the way we communicate, read "Beginning with the End-User" in the January 17issue of the Journal.

Glitho was among five Concordia scientists who received support from the Canada Research Chair (CRC) program in November. Over five years, the university will receive $500,000 for each CRC.

Other Concordia researchers who received CRC renewals:
Steven High, Renewed as CRC in Public History, professor in the Department of History and co-director of the Centre for Oral History and Digital Storytelling.
Sha Xin Wei, Renewed as CRC in New Media, associate professor in Design and Computation Arts.
Patrik Marier, Renewed as CRC in Comparative Public Policy, associate professor in the Department of Political Science.
Uri Shalev, Renewed as CRC in Neurobiology of Drug Abuse, associate professor in the Department of Psychology and a member of Concordia's Center for Studies in Behavioral Neurobiology.

Related Links:
• Concordia's Telecommunications Service Engineering Lab
• New funding for Canada Research Chairs – Now, November 24, 2010
• Concordia's Faculty of Engineering and Computer Science

---