Former Governor General to visit Concordia
The Right Honourable Adrienne Clarkson will give a talk on January 13 as part of the Concordia Student Union Speaker Series
As part of its Speaker Series, the Concordia Student Union (CSU) has invited the former Governor General of Canada, the Right Honourable Adrienne Clarkson to give a talk at the university.
Clarkson will speak on January 13 at 5:30 p.m. in Room H-110 of the Henry F. Hall Building (1455 De Maisonneuve Blvd. W).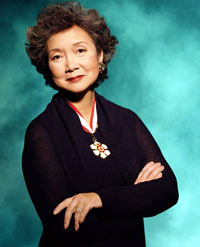 Her lecture will engage the audience in a spirited dialogue about the common good. In the process, she will be addressing her experience as a promoter of Canadian culture, bilingualism and the arts.
Universally acknowledged as having revitalized the office of the Governor General, Clarkson's execution of her duties far exceeded the visionary pledge she made when she became Governor General.

Clarkson began her award-winning career at the CBC in 1965 and was recognized with successively more challenging assignments as writer, producer, director and host.
After taking time to serve as Ontario's first Agent General in Paris, and president and publisher of McClelland & Stewart, she returned to her career at the CBC in 1988 becoming executive producer, host and writer for various programs including Adrienne Clarkson Presents.

Clarkson has been recognized for her outstanding contributions, including being honoured as an Officer of the Order of Canada in 1992, and becoming Chancellor and Principal Companion of the Order upon her appointment as Governor General in 1999.


Related Links:
• Concordia Student Union
• Adrienne Clarkson
---