$187,000 and still climbing!
Concordia Centraide campaign sets records, sees increased participation
December 6, 2010
|
Source: Concordia Journal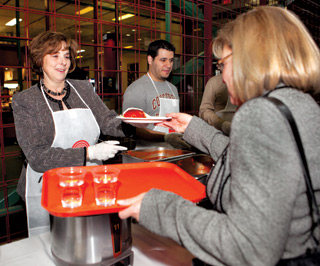 The success of Concordia's Centraide Campaign is something to be proud of.
This year's campaign broke a number of records: most funds raised in Concordia's 40-year history for the charity; most funds raised at the leadership level (gifts of over $1,000); most funds raised with internal community events; best-attended pasta lunch; and highest participation rate.

So far, more than $187,000 has been raised, and the total keeps climbing. Despite having reached the challenging goal of $185,000 during a shorter campaign period, pledges are still coming. The tightly focused campaign lasted only one month compared to the usual two months.

More than $14,000 was raised with raffles, bake sales, pasta lunches and other creative fundraising events. This includes close to $4,000 raised at one pasta lunch, easily the most raised at such an event, with almost 400 participants, the highest turnout ever. Campaign Chair Bram Freedman is "particularly pleased that we have increased our participation rate to 14%, up from 11% last year."

Freedman, who is also Vice-President, External Relations and Secretary-General at the university, has experience in fundraising campaigns. During a period away from Concordia, he spent fourand- a-half years as Chief Operating Officer and Director of External Relations at Federation Combined Jewish Appeal. He is so delighted with everyone's efforts during his first year as Campaign Chair that he says, "We're going to aim even higher next year."

The Centraide of Greater Montreal campaign total will be announced December 15. The goal for this year is $55.3 million.
---