The spirit of giving
Donation drive lets Concordians give food, clothes and toys to those less fortunate
In Charles Dickens' classic holiday story, A Christmas Carol, the greedy and miserly Scrooge learns he must change his ways after ghosts show him scenes from his past, present and future Christmases, and transforms into a generous, caring person.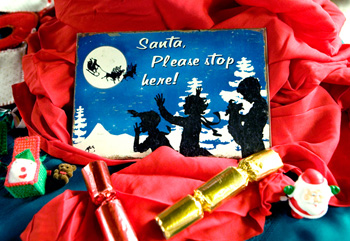 The tale has come to encapsulate the spirit of giving at this time of year. And unfortunately, there are many Montreal families who could benefit from being given the most basic of items: food and clothing.
For Concordia students, staff and faculty members who would like to help spread joy and warmth into the dark corners of many Montrealers' lives, the Dean of Students Office and Advancement and Alumni Relations have joined forces with CTV Montreal to bring the TV network's annual Spirit of Giving food, clothing and toy drive to Concordia.
"This is in keeping with our commitment to community engagement and social action," says Elizabeth Morey, Dean of Students. She adds that the Spirit of Giving drive parallels other initiatives at the university at this time of year, such as the holiday tree in the Library Building for the Student Emergency Food Fund and the toy and clothing exchange of the Concordia University Student Parents Centre, among others.
"We must give back, and this is an opportunity for Concordians to show their generosity and caring," the dean notes.
Boxes have been placed at both Loyola and Sir George Williams campuses to collect donations of non-perishable food, toys and new or nearly new articles of clothing (see below). The donations will be distributed to select charities throughout the island of Montreal, including Dans la Rue, the NDG Food Depot, and Share the Warmth.
CTV will pick up their boxes on Wednesday, December 8.
Go ahead – be a post-ghosts Scrooge.


Donation box sites:
Sir George Williams Campus
• Henry F. Hall Building lobby (1455 De Maisonneuve Blvd. W.)
• J. W. McConnell Building lobby (1400 De Maisonneuve Blvd. W.)
• John Molson School of Business Building lobby (1450 Guy St.)
• Engineering, Computer Science and Visual Arts Integrated Complex lobby (1515 Ste. Catherine St. W.)

Loyola Campus
• Administration Building lobby, by security desk (7141 Sherbrooke St. W.)
• Richard J. Renaud Science Complex lobby, by security desk (7141 Sherbrooke St. W.)
• Vanier Library entrance (7141 Sherbrooke St. W.)


Related links:
• Dean of Students
• Advancement and Alumni Relations
• CTV.ca (includes full list of recipient charities)
---