Planting our fuel
Concordia hosts public conversation and sparks dialogue on bioenergy
What will our bioenergy future look like?
That is the question a mix of journalism and science students, Concordia faculty, government employees, and the general public got together to debate on November 20 at a world café on biofuels at Concordia University's Loyola Campus.
The event, titled "Planting Our Fuel: Will Science Feed or Kick Our Energy Consumption?" was organized by the Concordia Science Journalism Project and took on the history, science and issues behind biofuel development. Biofuels are a hot topic as various countries, Canada included, race to find alternative sources of energy based on renewable biomass, while others worry about how such technologies are affecting our water, land and economy.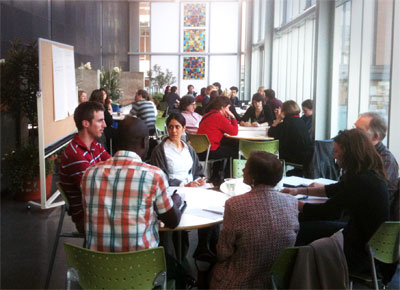 "A world café is meant to empower people to discuss their vision of the future while bearing in mind the views of their neighbours," said David Secko, event convener and Concordia journalism professor. Participants sit at 'café style' tables, enabling diverse conversations and making it a practical way for a group to work through problems. "It draws people together and asks them to envision a common future."

The biofuels event started off with McGill University plant science professor Donald Smith giving an extensive overview of biofuels and the global issues surrounding them. "There's a need to move off fossil fuels. It'd be nice to just jump off them, but that's never going to happen. It's going to be a gradual transition, so we need to keep moving," said Smith. Next, environmental historian and author Bill Kovarik Skyped in from Virginia, where he is a professor of communication at Radford University, and gave a presentation showing biofuels are anything but a modern debate – in fact, decades ago, they were considered the "fuel of the future."

Adrian Tsang, director of the Centre for Structural and Functional Genomics at Concordia University; Terry McIntyre, Senior Science Advisor on biofuels for Environment Canada; and Blaine Kennedy, formerly from Sustainable Development Technology Canada, also added their visions of the future during a panel on their hopes and fears for biofuels. Summing up the panel, Tsang said, "We need to reap the benefits of being one of the early adopters of bioenergy."
Participants then broke into small groups and played a kind of musical chairs, switching groups and addressing new questions during three rounds of 25-minute discussions. The diverse topics debated included rural jobs and biodiversity. In the last round, Secko asked the participants to come together to design a follow-up event, which he hopes to hold next year.
Related links:
• Concordia Science Journalism Project
• Department of Journalism
• David Secko



---